Charli D'Amelio is a young teenager who gained her fame via a social app, TikTok. She earned her popularity through her dancing videos, garnering 51.9 million followers on TikTok outpacing fellow star, Loren Gray. Furthermore, with the massive popularity and has grown into one of the biggest stars, Charli D'Amelio's net worth has escalated to $4 million.
Let's get into more about the earnings of the young millionaire in this article.
What Is Charli D'Amelio's Net Worth?
According to Celebrity Net Worth, Charli D'Amelio's net worth has increased to $4 million along with her growing popularity. Born on May 1, 2004, she started with her Instagram account in 2016 and created her TkTok in 2019.
By 2020, she has half a billion audiences and is a multi-millionaire at the age of 15.
Charli D'Amelio's Earnings From TikTok
Charli D'Amelio, the reigning queen of TikTok, has been cherishing her 50 million followers since 2019. Within a year of creating her id, she has a massive and loyal fan base that supports her. TikTok has not only crowned Charli as a queen but also contributed to her earnings.
Social media personalities gain a considerable profit by collaborating with major brands and international companies. Tiktokers earn as much as a million by promoting their brand to their followers via video that lasts 60 seconds. It sounds like a great career.
According to DailyMail, TikTok stars can make as much as $200,000 per post and could charge approximately $1 million the following year. As mentioned prior, the TikTok videos last not more than 15 to 60 seconds. This makes influencers quickest earners on the planet. Among the fastest earners is the beloved reigned queen, Charli D'Amelio.
Most notably known for her dance, Renegade, Charli D'Amelio's fortune escalated immensely from her TikTok sponsorships.
Charli D'Amelio's Earnings From YouTube
Besides D'Amelio's earnings from her TikTok videos, her YouTube channel also contributes to her growing wealth. Although the gorgeous TikTok star launched her channel in 2015, she started uploading videos recently. The channel surprisingly has 3.53 million subscribers and the numbers are increasing daily.
Furthermore, Charli D'Amelio's earnings from the channel is estimated to be somewhere between $31.3K – $501.5K per year, which is quite impressive for six videos. Let's hope she continues to post videos and updates her fans with her daily life activities and making handsome money from it.
Charli D'Amelio Merchandise
Isn't it amazing how a teenager is continuing her high school, launching her YouTube, creating her merchandise, and earning millions? Well, it is, and oh boy, how hard would it be to be under the scrutiny of the world, trying best not to give up on the nasty comments and continuing the grind. However, it may be, TikTok star, Charli is not the ordinary youth as she is doing all of the above.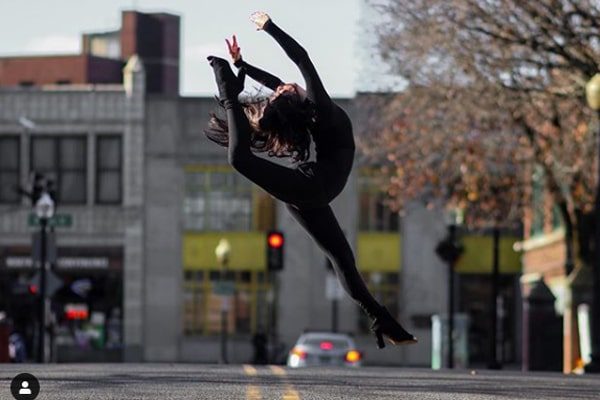 Charli D'Amelio is a great dancer and a TikTok star earning her life. Image Source: D'Amelio's Instagram. 
TikTok star, Dixie D'Amelio's sister, Charli, also earns from her merchandise sales. Few items from D'Amelio's online shop are listed below, along with their respective prices.
Iced Coffee Tea: $30.00
The Hype Tank: $25.00
Charli Water Color Tee: $25.00
Ice Coffee Splatter Hoodie: $60.00
The Hype Hoodie: $50.00
Charli Pillow: $22.00
Microfiber Duvet Cover: $98.00
Charli Confetti Samsung Case: $27.00
Iced Coffee Sweatpants: $50.00
Neck Gaiter: $18.00
Charli D'Amelio's net worth is hence supported by her merchandise sales as well. Regardless of her multi-source of income, Charli has also signed with United Talent Agency in January 2020 along with her sister, Dixie D'Amelio. Speaking of Charli's sister, Dixie D'Amelio's net worth is estimated at $3 million. Furthermore, Charli has already starred in a Sabra Hummus commercial that will play during the Super Bowl.
Moreover, she is also a member of the collaborative TikTok group, The Hype House. Charli D'Amelio's ex-boyfriend, Chase Hudson, accompanies her in the house along with fellow TikTok stars, Maximo Rivano, Addison Rae, Tony Lopez, Thomas Petrou, Ryland Storms, Daisy Keech, etc.
Besides TikTok, YouTube, and many more, Charli's IMDb also credits her for voicing Tinker in StarDog and TurboCat. Furthermore, she has made several appearances in Night shows including The Tonight Show Starring Jimmy Fallon.
Plus going through her social media handles, one can see that the talented Charli enjoys a comfortable lifestyle. And she loves hanging out with her friends and family. Furthermore, with the number of people following her, we bet that Charli must charge quite a considerable amount of money for a single sponsored post.
Therefore, Charli D'Amelio's wealth and career have taken off pretty steadily and at a fantastic pace. Let's hope the daughter of Marc D'Amelio and Heidi D'Amelio grows up to become a charitable personality and the right influencer.
Don't Miss To Follow SuperbHub For More Updates On Celebrity Entertainment, Biography, and News.