'Dog Whisperer' Cesar Millan was a married man. He married previously to Ilusion Wilson but got separated after 16 years in 2010 according to E! News. Currently, the 48-year old renowned dog trainer is in a relationship with his girlfriend Jahira Dar.
Is Cesar Millan Engaged to Jahira Dar? Or Did they Marry?
Oh Yes, he is! Mexican- American Cesar announced the news of his engagement via Instagram on Monday. He shared a post-proposal picture with his 689,000 followers on April 25, 2016.

Millan proposed Jahira, an actress, and former stylist, on March 24 in Greece Amid a romantic tour of Europe.  It has been almost 10 months since their engagement.
The lovely pair were together for six amazing years. He expressed that he is so happy he asked Jahira to be his wife, and thankfully she said YES. He told People "My pack is complete."
According to the People, Millan's March 24 proposal was the end of an elaborate surprise. The couple was vacating in Spain, and Dar assumed they headed for Italy.
The pair had dinner at the top of Mount Lycabettus, in Athens after the proposal. That's really romantic.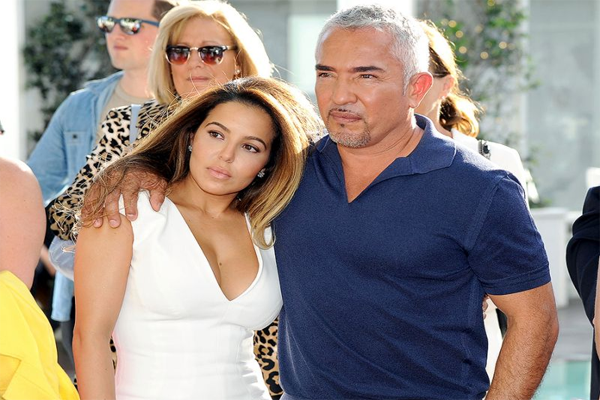 Cesar Millan Engaged to Jahira Dar and says my pack is complete.
Image source: Yahoo
Almost a year after Cesar Millan engaged to Jahira, the question now is when are they getting married? They are ready to tie knots and exchange vows but looks like the exact wedding date is yet to be planned and announced.
They might be planning a grand wedding ceremony or a quiet one among their close friends and family. Whatever the reason be, the lovebirds are soon going to be pronounced husband and wife.
Millan's Suicide Attempt after Divorce with Wife Ilusion
In June 2010, Ilusion filled for divorce to Millan and finalized their divorce in April 2012. According to the agreement of their divorce, a single payment of $400,000, monthly spousal payment of $23,000 and monthly child support of $10,000 was provided to Illusion.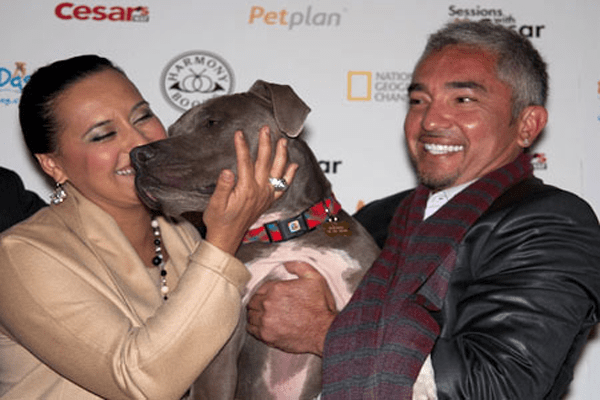 Cesar Millan with his ex-wife Ilusion Wilson and their pet dog.
Image source: bloggiedoggie
Cesar's life turned for the worse after Ilusion filed for divorce, only one month after passing away of his beloved pet. He seemed to have lost it all. Depressed, Millan attempted suicide by overdosing on his pills. But after the incident, he regained focus in his life and started off again. Clearly, Jahira helped him out from this depressing moment.
Millan started dating girlfriend Jahira in August 2010, just two months after Cesar's wife, Ilusion filed for divorce.
Millan said,
"Jahira came into my life at just the right time after a heartbreak. She was instrumental in helping me rebuild my life and my family after my divorce. Jahira is compassionate, instinctual, spiritual, gentle, fun, strong and loving. Moreover, she embodies the principles that I prize the most- honesty, loyalty and integrity. On top of all, she also loves dogs and mother nature just as much as I do".
Now, after surpassing difficult periods and having found Jahira, Millan's pack is really complete. After Cesar engaged to Jahira, he is cherishing every moment of his current relationship.
Millan has two sons with his ex-wife, First child Andre Millan,23, and second son Calvin Millan, 16. Both Andre and Calvin are working with their father. According to cesarsway, Calvin and his dad have set a unique school for dogs.
Cheers to the happy family!
Mini Bio: Cesar Millan
Cesar Millan is one of the best-known dog trainers, who starred on shows as 'Dog Whisperer,' Cesar 911' and 'Leader of the Pack'.
Cesar Millan's Emmy-nominated TV Series, Dog Whisperer was produced from 2004 to 2012 and broadcasted in more than eighty countries worldwide.
He is a New York Times best-selling author of his books, A member of the family,  Be the Packleader and How to raise the perfect dog. He has his own line of dog products and instructional DVD. Furthermore, his methods have been criticized by the animal welfare charity RSPCA and by the broadcast Alan Titchmarsh as being "cruel" and also "unnecessary."
However, he is one of the best-known Dog trainers till date.
For more updates regarding Cesar Millan and Jahira Dar relationship and a possible wedding, keep in touch with SuperbHub.