The Teen Mom star Catelynn Lowell recently got a new tattoo on the honor of her daughter Vaeda Luma. Catelynn and her husband Tyler Baltierra welcomed their third child Vaeda Luma on 21st February of 2019.
Catelynn Lowell is an American reality TV personality, author and public speaker. She already has two children Carolyn Elizabeth Davis and Novalee Reign Baltierra before Vaeda Luma. However, Catelynn and Tyler had put their firstborn Carolyn for adoption and was later adopted by Brandon Davis and Teresa Davis.
Catelynn Lowell's New Tattoo Dedicated To Daughter Vaeda
Some parents show their love by hugging, kissing, and snuggling, but in the case of Catelynn and Tyler Baltierra, they do much more than that. The Teen Mom star Catelynn decided to celebrate the birth of their second child by getting a tattoo.
Catelynn Lowell revealed through her Instagram that she recently got a new tattoo for daughter Vaeda Luma. Catelynn posted a clip in which Tattoo artist is drawing a tattoo on her leg. However, She hasn't revealed the picture of the tattoo yet.
View this post on Instagram
However, looking deep through her clip, it seems she got the footprint of Vaeda Luma inked on her right foot.
After the birth of Vaeda, the Baltierra family has received many blessings from fans. Catelynn describes the moment with her new daughter is rainbow after the storm. Tyler also said that
I'm just so blessed that Vaeda's destiny was to be right here in her mother's arms, next to her big sister, who's wrapped in her daddy's arms…it's a feeling that's unexplainable.
Catelynn's Tattoo After The Birth of Novalee Reign
Well, this was not the first time for Catelynn getting tattooed for a child. Catelynn decided to get a footprint of her daughter inked onto her left foot back in 2015. And as for her husband Tyler, he got the name of Novalee tattooed as a "Bat Signal" on his left arm.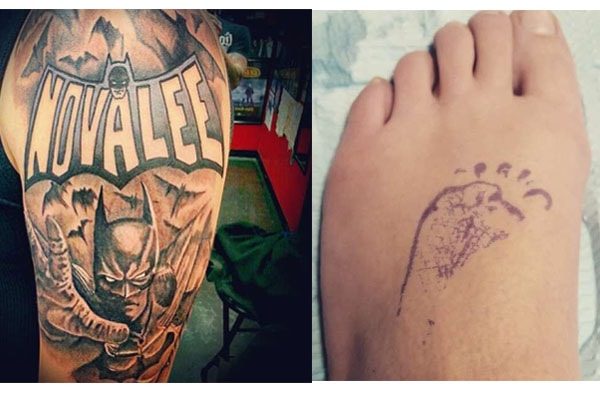 Catelynn and Tyler's Tattoo after the birth of their second child. Picture source: E online. 
Well, let's see if somewhere in the near future, if Catelynn and Tyler welcome a new child, then whether or not will they add a new tattoo again as a welcome gift to their child.
Keep Connected with SuperbHub for more News, Entertainment and Biography