Bret Michaels' ex-fiancee Kristi Gibson is an actress/model best known for A Letter from Death Row and, The Untold Story. She was engaged to Bret Michaels on December 22, 2010, and decided to call off their engagement in 2012.
The ex-pair of Michales and Gibson share two daughters, Raine Michaels and Jorja Bleu Michaels. Besides being in a relationship for 18 years, and unfortunately, broke up in 2012.
Dated Nearly Two Decades
Bret and Kristi were in a relationship for about 18 years. She waited for a long time to get engaged to Bret as she cherished him as if he was her husband. But life has it's own way of telling things and somethings don't just last forever.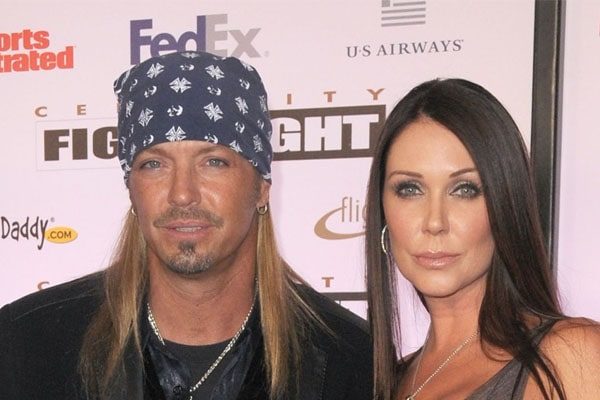 Kristi and Bret were in a relationship for 18 years before deciding to break up in 2012. Image Source: Getty Images.
Kristi and Bret met in 1994 and soon started their romantic relationship. As they were dating, Kristi gave birth to their first child Raine in 2000. Soon the couple welcomed their second daughter Jorja Bleu in 2005. The family was completed after their second came, said Kristi.
Ups And Downs In Their Relationship
Kristi Gibson says, if you love someone it doesn't matter how long you dated them when they leave it hurts, like hell. Her heart was completely shattered when her wedding was called off. Let's know what happened.
After their second daughter was born, the family of four made their debut in an American reality documentary series. It was shown on VH1 and was named Bret Michaels: Life As I Know It. Later on, the series was followed by Rock of Love, a dating game show hosted by Bret.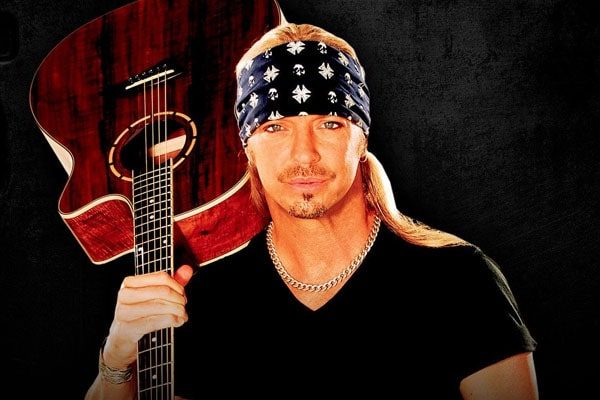 Bret Michaels is an American singer-songwriter and musician. Image Source: Pinterest.
Everything followed up well but suddenly Bret got hospitalized. It was revealed that he was suffering from a brain hemorrhage. Nonetheless, Kristi never left his side and was always beside him every day until he was fully recovered. Besides that, she also raised their children quite efficiently.
Moreover, when Bret recovered he never forgot to thank Kristi. Everything was going really well for the ex-couple and fans were really excited to finally see them tie their knots. Fans were joyed when Kristi was spotted wearing a ring. But unfortunately, it was a promise ring. Despite that, the family of four looked very happy.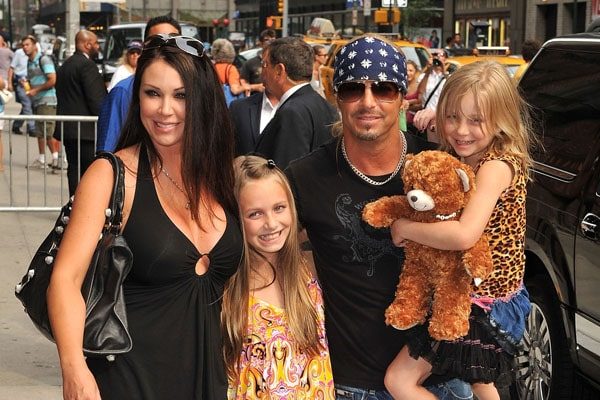 Bret shares a close bond with his daughters and has even promoted them on his social media pages. Image Source: Getty Images.
However, later on in the same year, during December, Bret got down on one knee to propose to Kristi, in their VH1 reality show. She looked really surprised as well as joyed at the same time and immediately said yes to Bret.
How It All Ended
It looked bright and dreamy for the lovely pair of Bret and Kristi in the first year of their engagement. Unfortunately, after two years of being engaged, the ex-pair called off the engagement and separated for good, leaving fans and followers sad and heartbroken.
Later on, the statement that they issued stated they would remain great friends and were committed to jointly raise their lovely daughters. Bret and Kristi remain closest of friends to date and have co-parented their daughters, and they both haven't tied their wedding knots with anyone.
Parents Of Two Lovely Daughters
Kristi Gibson & Bert Michaels have two beautiful daughters, Raine Michaels and Jorja Bleu Michaels. Her eldest daughter Raine, broke into the modeling industry in July 2018 as she made a stunning debut as a model.
View this post on Instagram
Raine Michaels was chosen out of over 25k women to walk on Sports Illustrated Swimsuit's Paraiso runway at the annual fashion festival.
Moreover, her youngest daughter Jorja Bleu is quite active as a songwriter and has co-written her father's new song Unbroken. Nonetheless, both the sisters are quite close to their parents and are often seen in pictures with them.
For More Updates On, Celerity News, Entertainment, Articles, and Biography visit SuperbHub