Image Source: The Spun
Bowden Sainte-Claire Ponder, the first child of Vikings quarterback Christian Ponder and ESPN reporter Samantha Ponder, is growing day by day. Time really flies. This little Viking became part of the family on July 22, 2014, in Minnesota. Celebrity Kid Bowden interests all especially because of her name. Well, there's a story behind it.
Christian Ponder named his daughter after the retired coach Bobby Bowden who tutored him at Florida State and his father, David Ponder.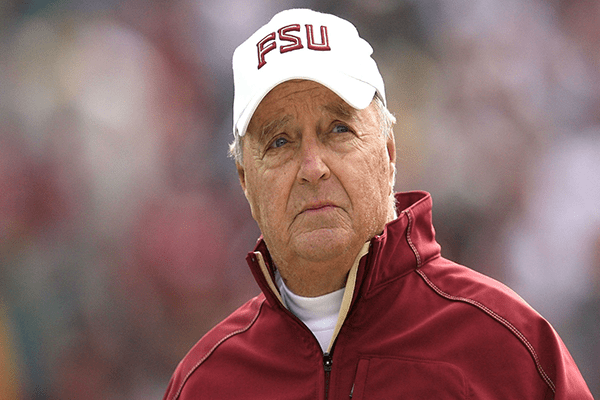 Image Source: Sporting News
Bobby Bowden, 88, is the retired American Football coach renowned for coaching the Florida State Seminoles football team from 1976 to 2009 during his tenure.
When Bobby knew that Christian Ponder named his daughter after him, he was really happy and surprised. Bowden in a phone interview with Pioneer Press in July 2014 expressed:

The Vikings quarterback in an interview with Pioneer Press in July 2014, also explained that they wanted a unique name, and thought Bowden was a cute name, and it fitted her pretty well. What a lovely tribute to his coach!
The middle name Sainte-Claire is named after her mother, Samantha.
Bowden Sainte-Claire Ponder made her social media debut when her mother, Samantha Ponder posted a picture of her on Instagram on July 23, 2014.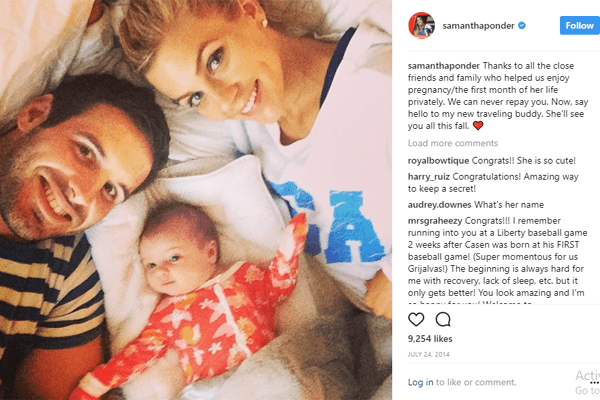 Image Source: Samantha Ponder's Instagram
Bowden is nick-named as Scout, after Scout Flinch, the young narrator of the novel, To Kill a Mockingbird. Ponder said to the Pioneer Press that he and his wife are both fans of the book and movie.
Bowden is growing prettier day by day.  She looks cute and adorable in her Paul Goldschmidt jersey in the picture posted by Her Mom. The Ponders family seems to support Arizona Diamondbacks in the Major League Baseball (MLB). Christian also wore an Arizona Dbacks cap.
Samantha Ponder had a cute photo moment with her daughter in the landmark 20-storied Plaza Hotel on November 1, 2017.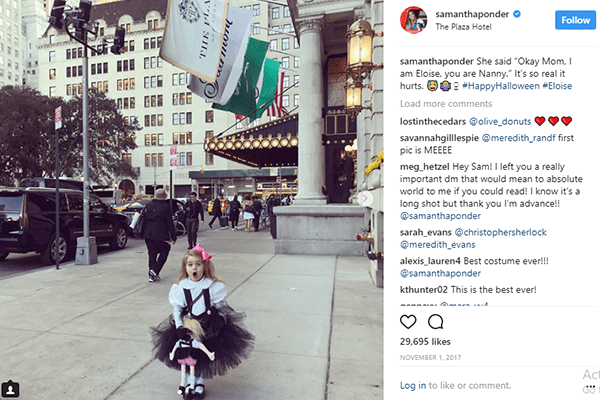 Image Source: Samantha Ponder's Instagram
Little Bowden already has her fans carrying pamphlets of her. She enjoyed the moment when she went for a morning walk in Times Square, Manhattan.  This shows Little Ponder is fond of going on walks and outings with her mommy.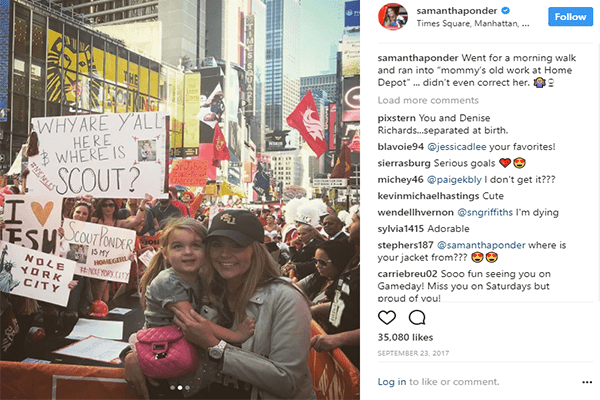 Source: Samantha Ponder's Instagram
On June 11, 2017, Samantha, tweeted with another news. There was an addition to the family. The couple's first son was born. And the name was again inspired by a former professional basketball player. The couple named him Robinson True, after David Robinson. David was delighted and can be seen smiling when Samantha told him about the name.
Christain Ponder, his wife Samantha Ponder and kids: Happy Family
Christian and Samantha dated for two months and knew that they were made for each other. They have been married since 2012 and have two kids.
Samantha Ponder was really nervous during her first pregnancy. She was worried about how her life would turn from a successful ESPN sideline reporter to a mother. Ponder had to keep aside her professional career and focus more on her personal life to spend more time with her husband, daughter and new dreams. After the birth of their daughter Bowden, in July 22, 2014, everything seemed well.
Due to Christian Ponder's busy schedules, Scout(Bowden) had to spend time away from her father 5 days a week. This was incredibly difficult for her and Christian, but they were committed to parenting. They loved their daughter very much and undergoing their first childbirth experience, it became easier for them to plan for having other kids.
Samantha continued her reporting career after her pregnancy recovery. Christian is busy working as a free agent and Little Bowden is enjoying her life's adventures with her parents and brother Robinson. Scout loves to go outing with her parents on Baseball Games, Thanksgiving parade's, her mother's workplace and roam around places in NY city.
Adorable Bowden also helps her father with gardening and her family chores.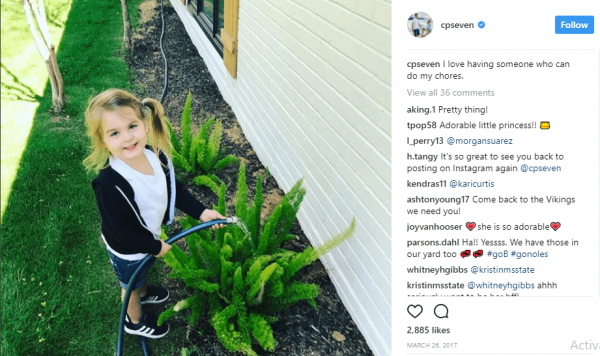 The Ponder couple welcomed their second child, son Robinson True, on June 11, 2017.
Samantha Ponder Pregnant again with the third baby 
On January 22, 2018, 32-year-old Samantha broke the news of having another (3rd) baby to her daughter Bowden, and her response was a simple, subtle head nod.

Samantha is on her third pregnancy in the last 4 years. She also added that avoiding vomiting on national TV is her biggest accomplishment to date.
Bowden is all set to become the eldest sister to two of her siblings. Stay with us to get more updates about Bowden, Ponder family and new baby.