Robert Montgomery Knight, aka Bob Knight, returns to Indiana University Campus 19 years after he was fired. Previously, he served as a head coach at Indiana University for 29 years from 1971-2000.
Bob Knight is a former American basketball coach and player who was born on October 25, 1940, in Massillon, Ohio, United States. He is married to Karen Vieth Edgar. He was previously married to Nancy Falk. Bob Knight is a father of two sons, Pat Knight and Bobby Knight. Bob Knight's net worth is $15 million.
Let's have a look, why was the legendary coach fired.
Why Was The Legendary Basketball Coach Fired?
Indiana Hoosiers's former coach Bob is one of the most successful and innovative college basketball coaches. On March 14, 2000, CNN Sports Illustrated network claimed that Knight choked late basketball player Niel Reed during practice in 1997. Following that, the CNN network looked at a tape of an Indiana practice in 1997 where they found Bob placing his hand on the neck of Neil.
After the incident, Indiana University president Myles Brand announced that Bob adopted a zero-tolerance, which means if he does the same behavior again, he would be fired.
According to Kent, Bob grabbed him by the arm for not showing him respect after he said, "Hey, Knight, what's up?" He furthermore added that Bob lectured him saying you would have said either Mr. Knight or Coach Knight.
Following that, President Myles Brand fired Bob for his rude behavior in 2000. Months after the incident, Bob was asked to return to the University, but he always used to avoid it and used to say he would never step his foot on the campus again.
In an interview on The Dan Patrick Show in 2017, Bob said that he had no interest in ever returning to Indiana and even said, 'I hope they're all dead.'
Furthermore, Knight made his first appearance in April 2019 on IU Campus since he left.
Bob Knight's Career In IU Campus
Bob began his career as a basketball coach in 1965 as a head coach in Army Black Knights men's basketball team. Later in 1971, he started serving at Indiana University as their head coach.
The legendary basketball coach led the team Indiana Hoosiers in different tournaments. During his 29 years at IU Campus, the Hoosiers won 662 games altogether. Furthermore, in 24 NCAA tournaments, Bob Knight's team won 42 games out of 62 games. He also won three NCAA titles in 1976, 1981, and 1987.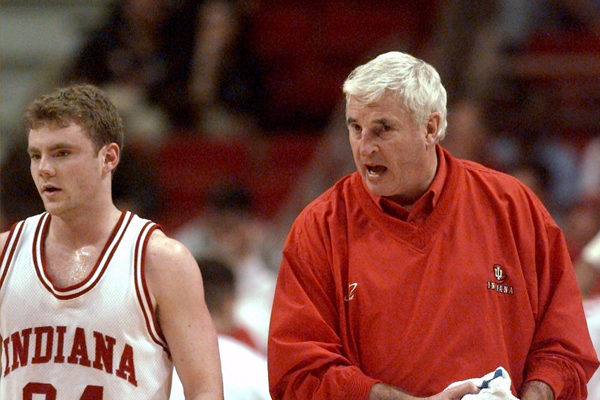 Bob Knight served as a head coach at Indiana University for 29 years. Image Source: Getty Images.
After he was fired from Indiana University, Bob was hired as head coach of Texas Tech in 2001. He trained some of Texas Tech's leading players, including David Moretti, Joel Ntambwe, Kyler Edwards, and many others.
Years after serving, he announced his retirement from coaching on February 4, 2008. After his retirement from basketball career, ESPN hired him as a studio analyst and occasional color commentator.
Nevertheless, Bob seems to have moved on from the incidents that had happened in the past. And today, he is regarded as one of the best basketball coaches of this era.
For More Updates On  News,  Articles,  Entertainment, and visit SuperbHub.