Jimmy Kimmel is a famous comedian who has made many people around the world with his hilarious comments in his show named Jimmy Kimmel Live. The man who made the world laugh went through a phase when his days were filled with fear and tears.
It's when his son Billy with his second wife Molly McNearney stepped in this earth with a heart problem.
Jimmy Kimmel and Molly McNearny's Second Child
Like other parents, Molly McNearney and her husband Jimmy Kimmel were excited about their upcoming child. When their second child William "Billy" John Kimmel was born in April the baby looked healthy but after three hours their happiness turned into fear and sadness as the doctors told them that he has some issues in his heart.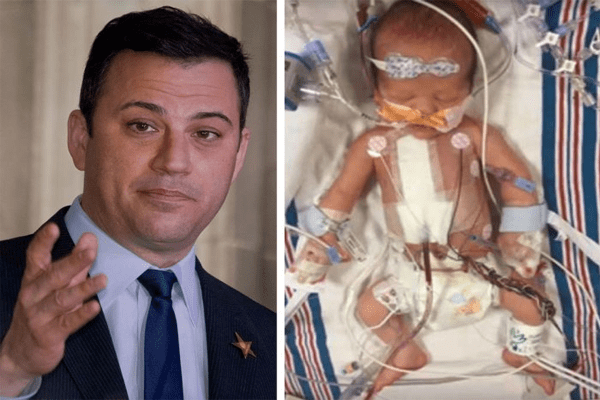 Jimmy Kimmel(Left) and his baby boy Billy Kimmel before heart surgery(Right). Image Source: Context With Lorna Dueck
Right after three hours of Jimmy's baby boy's birth the nurse took the baby from the side of Molly and took the baby along with Jimmy out of the room which had created some fears in Molly's mind.
After some hours both Jimmy and Molly were informed that their baby son has an issue in the heart. So just after 3 days, Billy was shifted to the children's Hospital in Los Angeles for an open-heart surgery. The couple shared about their son's condition to the world from their show Jimmy Kimmel Live to aware people about heart problem in children.

Second Heart Surgery
The baby boy Billy was going well after the first heart surgery but again due to some complications, Billy got a second heart surgery when he was just seven months old on December 4, 2018.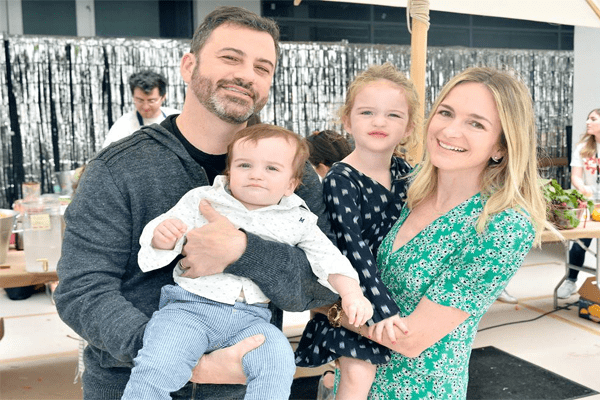 William aka Billy Kimmel with his sister, dad, and mom. Image Credit: eonline
Jimmy along with his wife had a very hard time until he saw his son Billy smiling without any health issues after his second heart surgery. He even postponed his show as he didn't want to leave his son and his family in such a hard time.
Jimmy Kimmel with his son William "Billy" Kimmel. Photo Source: CNN.com
The comedian Jimmy announced that his son is doing well and completely fine now. He didn't miss out to thank all the doctors and nurses and especially his wife Molly to bless him with such a cute baby boy.
Jimmy's son is really a brave and strong boy!
SuperbHub for more celebrity News and Entertainment.