In the world of YouTube, we have begun enjoying some unusual yet satisfying activities. Among the satisfying activities is a food challenge. Matt Stonie is the man who astonished the world when he ate out the eight-time champion, Joey Chestnut, at an International eating contest.
So, foodie and competitive eater, Matt Stonie is absolutely in love with his foods and explores varieties of them. But is the food monster, Matt Stonie, married? Or does he have any girlfriends? Let's find out in this article.
Who Is Matt Stonie's Girlfriend?
It looks like the man who likes to push his body to its limit does not have extra time for a woman in his life. Yes, we are talking about the man who holds several world records for eating, Matt Stonie. It seems like Matt Stonie's girlfriend is his food challenges at the moment, and he is busy preparing his body for more food.
It's incredible to see Matt in shape regardless of the amount of food he intakes. Because he is not seen with any woman yet, and that he looks at his best despite all the calories and food challenges, we can only assume that Matt's relationship with physical fitness and food is commendable.
View this post on Instagram
Even if Stonie's girlfriend exists in this world, he is doing a great job hiding her from the scrutinized eyes. However, going through his entire social sites and YouTube videos, Stonie's love for his food is more than any other being.
While Matt Stonie's partner is a mystery at the moment, one thing that can be pinned as a fact is that San Jose born is unmarried.  Besides being in a committed relationship with foods, his relationship with other beings is non-existent, at least for the world to witness.
Matt Stonie's On-Going Relationship With Food
Matt Stonie, the food monster, has been sharing long and a very committed yet complicated relationship with food. Born on May 24, 1992, in San Jose, California, U.S., Matt Stonie is also known as Megatoad. Stonie's journey to food challenge began in 2010.
The first-ever contest he participated in 2010 at a young age of 18 where he won $1,000. Since then, he has never looked back. What's more interesting is that the food ghoul plans to become a dietitian. According to Matt Stonie's website, he reveals that most people think that a competitive eater dreams of eating 24/7.
However, he explains that the truth behind all the winning performances is training and knowledge of what he's eating. Moreover, Stonie's course of nutrition helped him understand to balance his food and health. Therefore, Matt Stonie's love affair with food is long and robust. Additionally, Stonie's brother, Morgan Stonie, shares his love for food with him.
Not A Fan Of Any Specific Food
As a foodie, anyone would expect Matt Stonie would have a long list of a favorite food. But it would only astonish Matt's fans to know that he does not have any favorite food but loves ice cream. Isn't it amazing to know that Matt is breaking every stereotype?
In an interview, Matt's response to "What's your favorite food" was amusing. He revealed that he has no favorite food, and it would depend on the contest he would participate in. He further continued to admit that if one continues to enjoy the food, s/he may lose the point and therefore lag. Sounds more reasonable.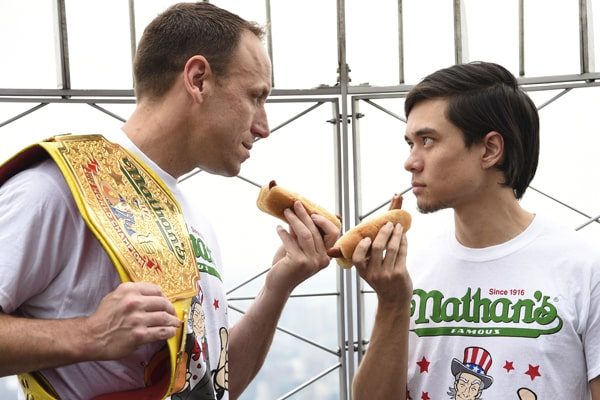 Matt Stonie believes that his enjoying the food would make him lose the game. Image Source: Evan Agostini.
Although Stonie's favorite food is non-existent, he loves Ben & Jerry's milk and cookies ice cream and mint chip. Well, the man with 10.9 million subscribers on YouTube, Matt Stonie, has a sweet tooth.
Although enjoying moments of singularity, let's hope Matt Stonie's girlfriend arrives soon, impressed by his eating habits and competitive spirit.
Don't Miss To Follow SuperbHub For More Updates On Celebrity News, Entertainment, and Biography.