Benjamin Walker's wife Kaya Rose Scodelario has got many tattoos on her body. Kaya who loves her body to be decorated with amazing tattoos is an actress. Her tattoos include flower, a little bird, a star, her husband name, a Mexican skull and some word in Portuguese.
Kaya Rose is married to Benjamin Walker who is known for his acting in The Choice. Benjamin Walker and his wife Kaya Rose first met in the shoot of the movie The Sun and The Moon. Kaya Rose and husband Benjamin both have interest in tattoos, however, Benjamin doesn't have any tattoo in his body.
Benjamin Walker's Wife Kaya Scodelario's Tattoos
As mentioned above Kaya loves to decorate her body with tattoos.  She got these awesome tattoos in the different parts of her body including her foot, finger, the back side of hip, ribs etc.
-Ben
She has got a tattoo "Ben" on her left ring finger. Ben is her husband's name and the tattoo is dedicated to her husband. This tattoo proves how much she wants and loves her husband. This couple is blessed with a son.  She first showed off the tattoo through Instagram in 2015 January.
View this post on Instagram
Kaya Scodelario also has a tattoo on her right foot of vine with flowers. It is one of her most prominent and sizzling body art. The tattoo looks amazing on her foot. She made sure that this tattoo shows off her sexy body in the more elegant way.
This tattoo was revealed in many photos while the actress wears revealing shoes on red carpet.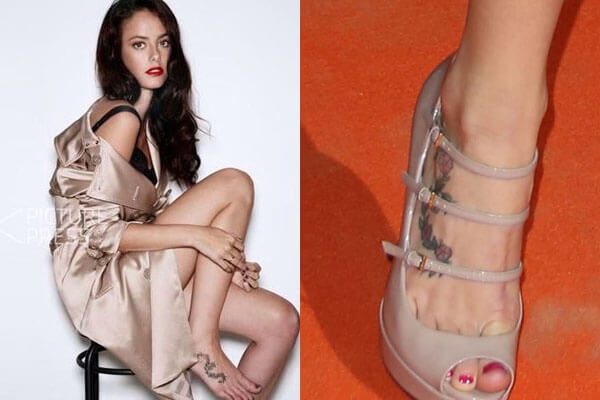 Kaya Scodelario's tattoo of flower in her foot. Source: Twitter
-The Bird Tattoo and Star
Kaya Scodelario has a bird tattoo beneath ribs. She has another tattoo of star below the bird. She has not opened up about this tattoo so there is no exact meaning behind this tattoo.
-A Sentence In Portuguese
Kaya Scodelario has a tattoo on her ribs of Portuguese sentence written: "Nosso Amor é único" which means our love is unique. She revealed her tattoo back in 2012 through Instagram.
View this post on Instagram
-A Mexican Skull
It is rumored that Kaya Scodelario also has a tattoo of Mexican skull. However, she hasn't revealed the tattoo so there is no information regarding this tattoo.
---
SuperbHub for more News and Entertainment.