American businesswoman, Barbara Ann Corcoran is a successful entrepreneur, investor, columnist, author, and speaker. Who could be the man perfect for such personality? Well, he is Bill Higgins. Barbara Corcoran's husband, Higgins is an Ex-FBI agent and US Navy Officer. And she can't be happier to have him in her life.
Barabara and Bill Married for 3 decades
Corcoran,68, was married to husband Bill Higgins in 1988.
The couple has spent 30 years of life together. That's incredible! In all these years, the lovely pair has grown with their relationship and has a great family. Corcoran is living with her husband in Manhattan, New York City with their two lovely children, Tom and Katie.
Barbara Corcoran's husband Bill is really supportive of his wife and they often spend time with each other and family.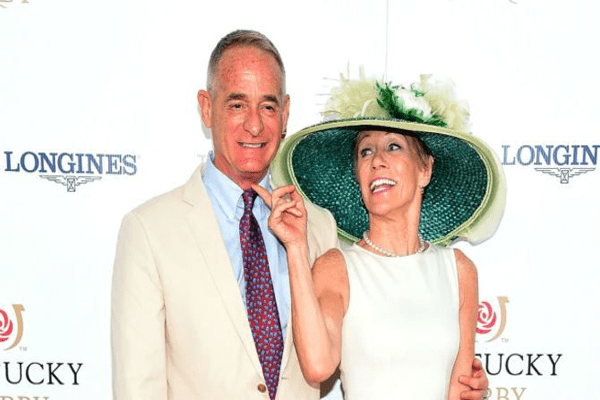 Barbara Corcoran's husband Bill attended the premiere of Dancing with the Stars season 25 with his wife.
Image source: Inquisitr
Barbara is really good at keeping a balance in her busy career and family life. Growing up with 9 siblings and parents in a poor family actually helped her to succeed and achieve a dream career and manage the family.
She loves to spend time with her family members and shares the sweet family moments in her Instagram often.
Their kids, Tom,23, and Katie,12 also love to do whatever they can for their parents. Barbara has often mentioned in her interviews and social media that her kids are the sweetest kids she could have. They are her assets. She also loves to acknowledge her family for being there with and for her every time.
Huge thanks to my family for coming out in the rain to tape my profile for Shark Tank! If you haven't seen it yet, head on over to my Facebook page. You're gonna love it!
Tom and Katie: Barbara and Bill's Kids
Barabara and husband Bill had to go through seven years of struggle to have their first child Tommy aka Tom. After several fertility treatments, Barbara could finally become a 'Mama' when her sister, Florence donated her eggs.
That was the happiest moment of Bill and Barbara's life. From her Instagram post, we can guess that Tom was born on March 4, 1994.
Corcoran did everything she could to be with her son Tommy. However, while dropping her son, Tom at school, she used to face the urgency to leave him and reach her desk at sharp 7:30 a.m.
I had this tension between my salespeople who were very needy and my child.
This led her to decide to sell her company, the Corporan Group for $60 million when she got an offer from a rival firm. Yes, she wanted to hold chubby cute little hands of her son Tommy and walk him to school without any tension or urgency. She's really a super mom!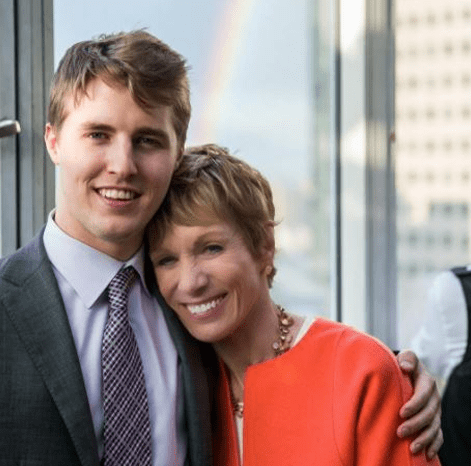 Barbara Corcoran first son Tom Higgins.
Image Source: Face Celebrity
Barbara wanted to enjoy every moment of motherhood and give best to her son when her husband was away.
This super mom made another great decision of adopting a second child. She adopted Katie after a lot of searches and efforts.
The loveliest part was the sweetest line she used to give the ad for adoption in Every Catholic States. The line was;
'I want your child to ski in the winter and spend summers at the beach.'
After having offers from around 27 moms, she answered to an urgent call from her adoption attorney. Barbara said Yes to a mom who wanted to give her daughter for adoption immediately. She was all ready to take the charge and left everything to fate.
Katie then blossomed in Corcoran and Higgins life. Barabara Corcoran's husband was supportive in every decision she made.
Barbara's family in Park Avenue apartment
Successful businesswoman Barbara once talked about her husband, kids, and apartment in an interview with The Real Deal. The interview took place in her Park Avenue apartment.
She said their whole family loves to hang out there often in their 3 bedroom apartment with a Library and Living room. Though they go for vacations and outings, they spend their quality time there.
Barbara has also mentioned that Tommy has been a very great kid since childhood. They got settled there when Tom was in Kindergarten and how much she wanted to walk him to school.
Talking about Barbara Corcoran husband, she humorously said that when she walks into her bedroom, there's "Not a lot of action in this room". And added that her husband Bill says she could write a book about "How to avoid having sex."

Barbara has made it to her mid-sixties, and she's blessed with such extraordinary life and a loving family.
Ramone Simone: Barbara's first love
Barbara first fell in love with Ramone Simone. She met him as a waitress while serving him. They soon fell in love. She was 23 at that time.
Barbara even started a real estate business with $1000 that Ramone had lent her in 1973. But after 5 years, in 1978, he married her assistant and left her.
But his words that he said while leaving her gave her more courage to give her best. He said;
You'll never succeed without me
Well, he was wrong as Barbara proved herself, built a great Corcoran company that she sold for $ 66 million in 2001. And she met her real soulmate, Bill Higgins.
Who Is Barbara Corcoran Husband Bill Higgins?
Barbara Corcoran husband is an American hero mostly known as former FBI special agent. Bill Higgins is the father of six children and grandfather of two lovely grandchildren. This means he had four children from his previous marriage.
The 73-year-old, FBI agent Higgins was the former commander of Southern command and New York Naval Militia that includes the area of New York City, Long Island, and the lower Hudson Valley.
For more updates regarding Barbara Corcoran's husband Higgins, her family life and relationships, be in touch with SuperbHub.