Married to Deborra-Lee Furness for twenty years, Wolverine franchise's star Hugh Jackman made his family complete by adopting two kids. Son Oscar Maximilian Jackman, born in May 2000, and daughter Ava Eliot Jackman, born on July 10, 2005. Hugh Jackman's daughter Ava is now a grown-up proud daddy's girl.
12-year-old Ava is growing under sincere parenting of the Jackman couple and the family of four have a great bond. They eat, play, walk, stay, have fun and travel together. And seeing the little girl all grown up walking with her dad holding his hand is absolutely adorable.
In July 2017, the daddy and daughter were seen walking in the terminal while leaving Los Angeles airport. Hugh Jackman really looked a proud father grinning and holding his daughter's hand.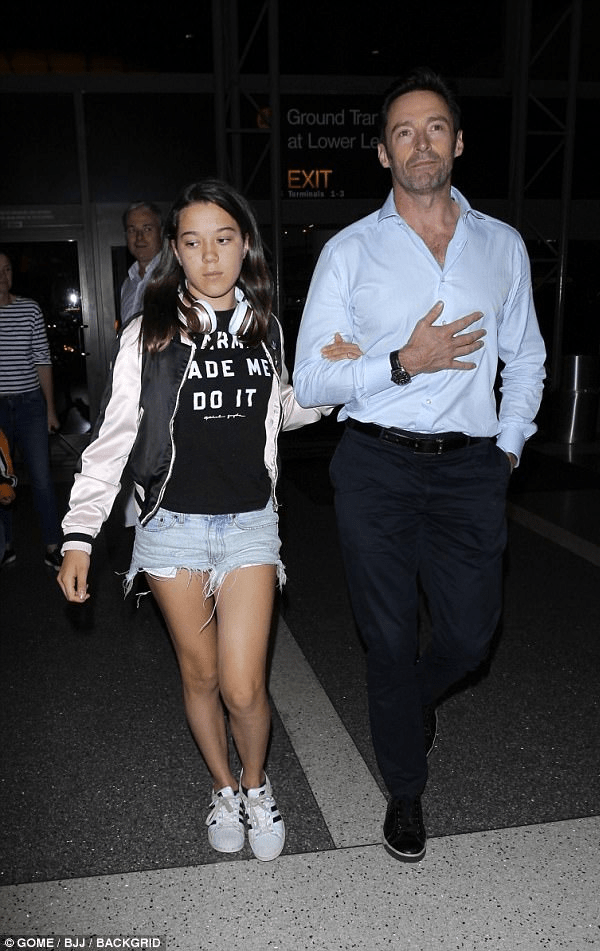 Hugh Jackman's daughter Ava leaving the Los Angeles Airport holding her father in July 2017.
Ava looked beautiful with a black and white jacket with slogan T-shirt underneath and denim shorts with white Adidas sneakers. It looks like she loves to travel with her headphones too.Along with them accompanied mother Deborra and Ava's brother Oscar.
Studying in school, Ava with her brother Oscar spend quality time with family vacationing together. In June 2017, they had family fun in Greece.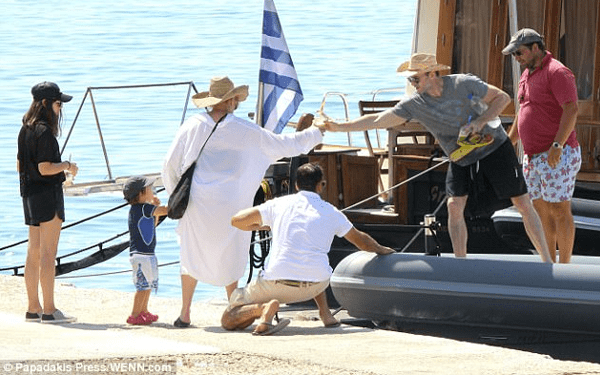 Hugh Jackman's daughter Ava(left) with mother Deborra, father Hugh, Brother and friends in Greece, Pristine waters. They look all set to board the speedboat.
The family had similar fun when both kids were younger at every children's favorite place, Disneyland. The most loved ideal family went for a vacation at Disneyland in 2009 when Oscar was 9 and Ava a four-year-old little girl.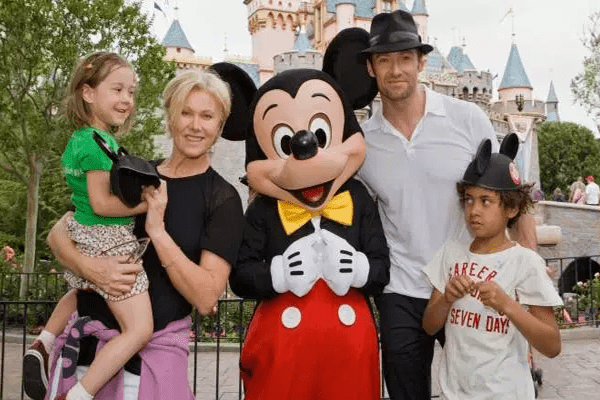 Hugh Jackman with Wife Furness, son, Oscar(9) and daughter, Eva(4) at Disneyland.
Image Source- Heavy
Little Ava: Her daddy's sweetheart
Whatever be the busy schedule, Hugh always set out his time for his children.
And Ava has always been an adorable, cute little snow white of Hugh Jackman.  On May 11, 2009, in the West Village neighborhood of New York City, Ava dressed up as Snow White, her favorite Disney princess with help of her super cool dad. She looked really cute riding her scooter.
Ava is often seen with her scooter and her parents like to accompany her on their own scooters. She also goes dancing classes and loves dancing.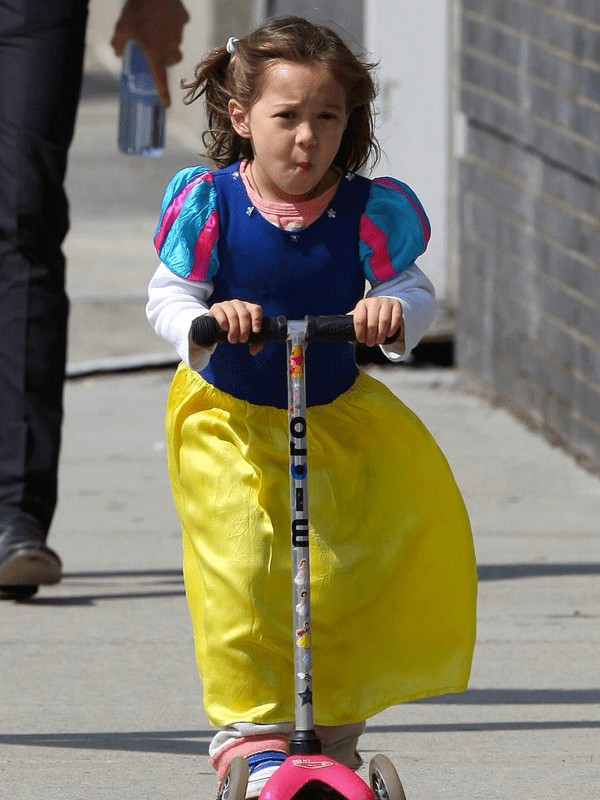 Hugh Jackman's daughter: Snow White Ava Jackman in her scooter accompanied by her mom and dad.
Source: Just Jared
And she may laugh seeing her pictures making funny faces now. Well, Ava was the girl who could upstage her superstar dad.
Just have a look at those silly eyes and tongue stuck out.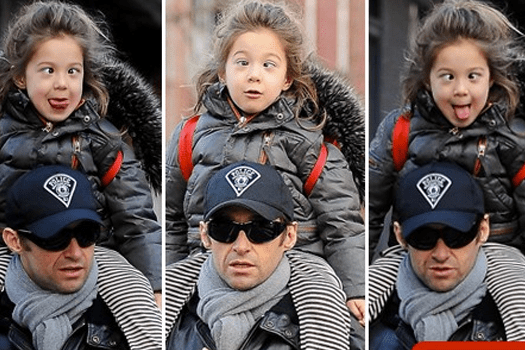 The Wolverine carried his daughter Ava on his shoulders and she looks adorable in her silly faces.
Source: TMZ
Now, this little cute girl is all grown up and set to make her parents proud and happy.
The most important part is that the family is having a great time together and Jackman couple doesn't feel or think that their children are adopted.
Why did Hugh and Deborra adopt kids, Ava and Oscar?
In an interview with Parade in 2015, the Australian actor had said that he always wanted children. He himself grew in a family with five children where three were biological and two were adopted.
The duo even thought to have both biological children and adopted ones in their family. But, since they couldn't have biological kids, that couldn't happen.
Hugh and Furness adopted Oscar because Furness suffered from miscarriage for two times. It was hard for them to survive without children.  The couple tried to have a baby; she even underwent IVF (a medical procedure where an egg is fertilized on test tube by sperm).
But this wasn't productive. So the duo decided to adopt Oscar and then a daughter who is now known as Hugh Jackman's daughter Ava.
Importantly, Hugh feels these two kids helped him and wife to overcome the pain of not having biological children. They are his children. That's what matters to him.
Ethnicities of Ava and her brother Oscar
Hugh Jackman's daughter Ava is half-Mexican, half-German. And son Oscar is African-American, Caucasian, Hawaiian, Cherokee. He's a bit of everything. According to People, Jackman has stated that they deliberately requested a bi-racial child as these children are turned away.
Oscar and Ava's mother Deborra is also an Adopt change ambassador. And both the couple have been appealing to the families to adopt homeless, especially bi-racial children locally in Australia. She says,
If any Australian see a two-year-old child sitting by himself/herself on a corner of the street, will they just keep walking by? No. These children need grown ups to care them. I need every Australian to be aware that these children needs permanent family.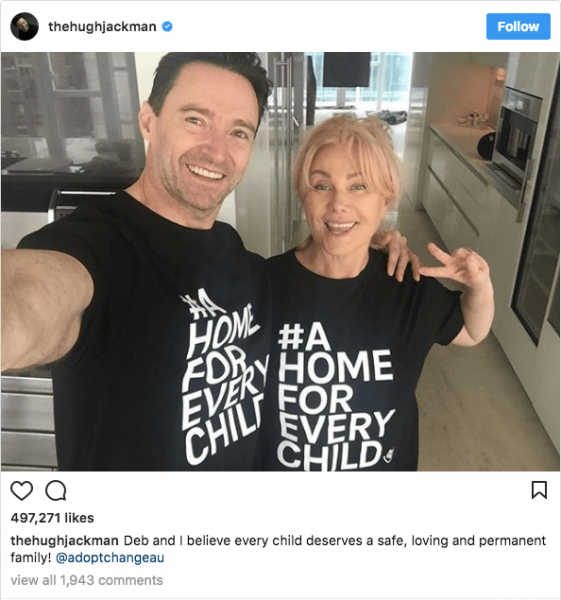 Hugh Jackman and wife Deborra make an appeal for adopting children as every child deserves a family.
Source: Hugh Jackman's Instagram
Hugh Jackman Concern for his kids
Yes, along with wife Deborra, Hugh Jackman is very concerned about his children's future. With Parade, Hugh Jackman shared that what worries most to him is his kids, since his daughter and son are growing up with great privileges along with challenges.
He worries that the fame and paparazzi his children are getting might spoil them. So, as a great dad, he always teaches them about respect and gratitude.  He says to his daughter Ava and son Oscar,
"I'm going to be tougher on you than I would be if I wasn't famous, because people are actually going to be less tough on you in life."
As Ava and Oscar are part of Celebrity family, Hugh doesn't want his children to feel entitled. He teaches his children to be better behaved, respectful and down to earth.
The Australian actor also turned to the on-screen hero to real-life hero as he is known to rescue his son Oscar from the rip. 17 years old, Oscar was tangled in the strong current of waves in Sydney's Bondi beach. Then the superhero, Jackman rescued him along with a swimmer.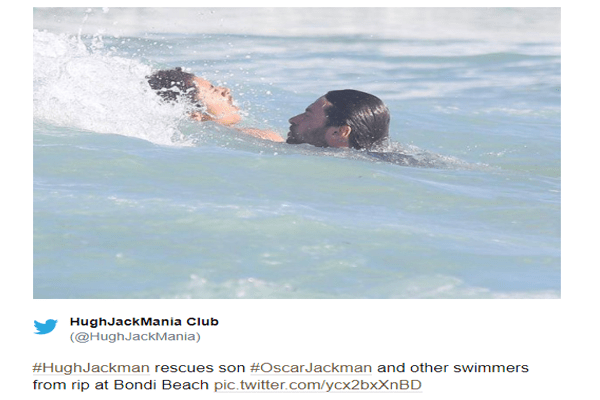 Hugh Jackman saves his son Oscar with a swimmer from a riptide.
Image Source- The Guardian
Hugh Jackman's Marriage
Hugh Jackman and Furness became the life partners on April 12, 1996, in Toorak Victoria. It has been 21 years to this beautiful duo living together and they still seem inseparable. This ideal couple proves that marriage can last in Hollywood.
On their 20th marriage anniversary, they shared pictures on Twitter and  Instagram as a throwback to celebrate.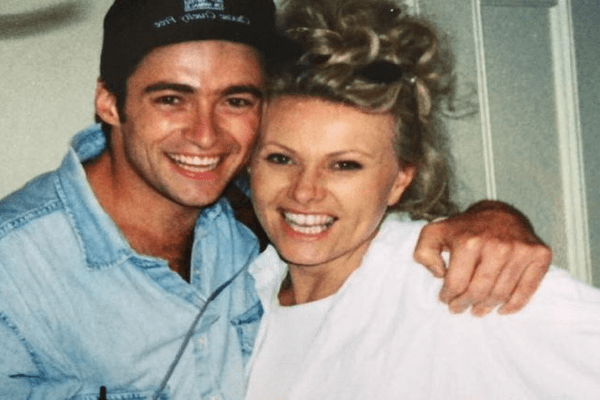 Hugh Jackman shared a throwback picture on his and wife Deborra's 20th marriage anniversary.
Image source- Enews
According to News, Jackman knew and is confident that, Furness is the one who will be with him until the end.  Furness is thirteen years older than Hugh. But it's love, understanding, and maturity that contributed to their successful relationship.
Stay connected with us on SuperbHub for more Entertainment news.