It has been more than a decade model Ashley Graham and her cinematographer husband Justin Ervin is in their married relationship. The two started their romantic relationship since 2009 but they agreed to stay sexually detached till their marriage in 2010.
When most of the entertainment Industry couples are in news due to their divorce and split up cases, this couple is ruling the media with their strong married relation. The two are happy having each other as their life partner.
Ashley's Interracial Marriage
Ashley met her perfect boy, her husband Justin during volunteering in a church in New York.  Their meeting was like love at first sight for Justin but Ashley was determined not to be attracted to any boys due to her past experience with her first boyfriend who left her after three months just because she didn't agree to make love with him.
Happy Couple Ashley and Justin celebrating their 7th marriage anniversary. Image Source: Instagram/JustinErvin
Ashley shrugged at first due to nerd looking appearance of Justin. They conversate a couple of times while volunteering in church and Ashley found something unique in her present husband Justin which made her agree to go to coffee with Justin.
Justin succeeds to impress Ashley with his sweet, open and consistency nature after meeting for several times. The two started dating each other, go for outings and taking an improv class together. Justin and Ashley never tempted themselves by visiting each other's apartment late at night.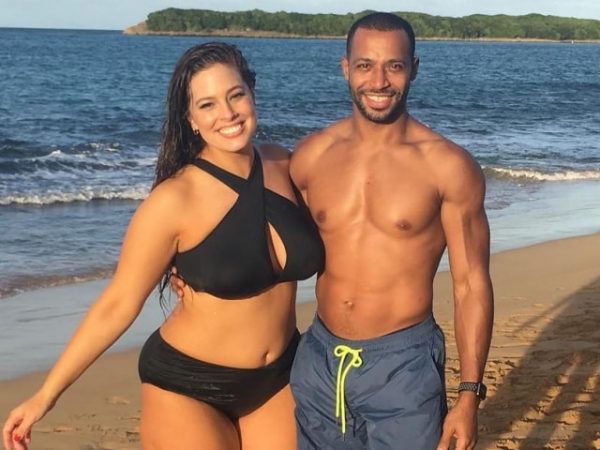 The hot model posing with her husband Justin during an outing in a beach. Photo Source: Wetpaint
Justin used to praise the beauty and sexy body of Ashley frequently during their meetings but Ashley kept her part of herself in reserve. Her present husband never forced her into any sex acts as the two already had a bonding of faith and love for each other.
Justin had proposed to his wife Ashley just how she had wished for. He tricked Ashley saying they are going to record a short film for some purpose and later when they reach the apartment in Brooklyn, Justin took out a golden ring from his pocket and proposed his love.

Introducing a black boy to the family was quite hard for Ashley. The supermodel couldn't summon the courage to introduce the race of her husband especially her grandmother but later the couple won the heart of Ashley's family.
Ashley has written all about her relationship with Justin in her self-written book "A New Model: What Confidence, Beauty, and Power Really Look Like".
Visit SuperbHub for more celebrity News and Entertainment.