Andrew Yang is currently married to his wife, Evelyn Yang. The couple together has two sons and currently resides in New York City.
Andrew Yang is a former U. S. 2020 Democratic Presidential Candidate, entrepreneur, attorney, and philanthropist. He is also the founder of Venture of America(VFA), which is a non-profit organization. Here are some facts about Andrew Yang's wife, Evelyn Yang, and their love life.
Evelyn Yang Worked In The Cosmetic Industry
According to Town & Country, Andrew Yang's wife, Evelyn Yang, was a marketing executive at L'Oréal. She later decided to stay home to look after her children. Evelyn Yang has remained low key and out of media, though she seems very supportive of her husband.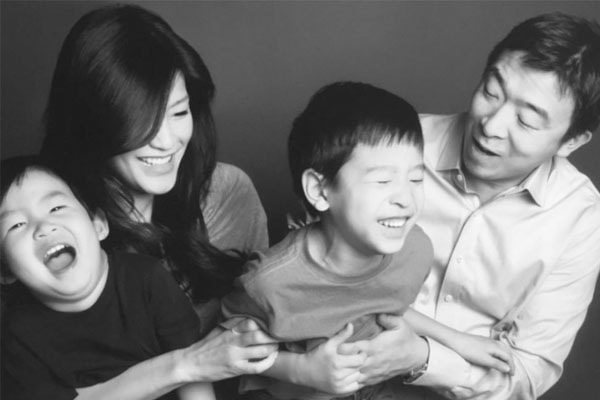 Andrew Yang's wife, Evelyn Yang, worked in the cosmetic industry. Picture Source: News week.
Evelyn Yang also studied abroad. She traveled to Shanghai while she was studying at Columbia, where she met Eileen Lee. Eileen Lee worked as Chief Operating Officer for Venture of America.
In an interview with Medium, Eileen told that she met Andrew Yang through his wife. Eileen and Evelyn met while they were studying in Shanghai, where Evelyn suggested Eillen work with Andrew.
Evelyn Yang and Andrew Yang's Love Life
According to Heavy, Andrew Yang and his wife Evelyn Yang met on the campus of Columbia University in New York City. After that, they started dating as Yang kept their relationship a private matter. The former candidate for president in the US mentioned that he met his wife in his thirties.
As of now, the couple is married for more than eight years. It is reported that the couple obtained their marriage license in 2010, but their official marriage date is 3rd January 2011.
View this post on Instagram
The couple has two sons together. In an interview with CNN, Andrew's wife reveals that the couple's older son Christopher Yang is on the autism spectrum. And Andrew Yang's campaign platform includes providing adequate resources to the autistic community.
Evelyn is extremely supportive of her family as she left the job to look after her children. And as her husband is pretty occupied with his works, Evelyn Yang surely must have got her hands full.
Andrew Yang's wife Evelyn Yang Revealed She Was Sexually Assaulted
Nothing hurts a woman's mentality until she's brutally mistreated, or some traumatic accident such as sexual assaults occurs in her life. Furthermore, if she does not get to take out the rage and have to suffer the trauma alone, that breaks her from within. Thus loses herself in the quest of healing the bruises in her heart.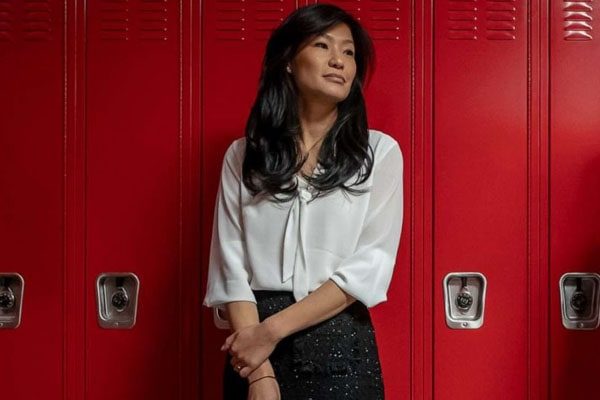 Andrew Yang's wife, Evelyn Yang, went through some difficult situations during her first pregnancy. Image Source: Shutterstock.
Connecting the rant, Andrew Yang's spouse Evelyn Yang went through the same shock and was unable to reveal her anguish, not even to her parents. Evelyn explains that a letter she received from a female-voter who claimed to confess about being a victim of such coop and took the life-altering decision helped her come out of her dark hole and let the whole world know that it is not okay to remain quiet.
Furthermore, she approached CNN in January 2020 to share her story, which she hid under layers of sadness. Andrew Yang's partner confessed that the assault began in 2012 when she was pregnant with her first child.
Mrs. Yang found an obstetrician-gynecologist named Dr. Robert Hadden. Hadden was a person with a good reputation in his field but had extra baggage called "bad morale."
Evelyn continues to profess that Dr. Hadden would ask her inappropriate question, completely unrelated to her health, and wanted to hear her talk about sex. Moreover, the examinations became frequent and more prolonged while, Mrs. Yang tried to replace Dr. Hadden's identity with a perverted doctor instead of a sexual predator.
Sexual Predator As A Doctor
Andrew Yang's wife says that visiting a gynecologist during pregnancy is crucial and adds a different level of anxiety and discomfort. She further recalls how things got worse in seven month's visit. Mrs. Yang reminisces how she froze during the moments he grabbed her and "examined" her without gloves waiting for it to be over.
Shamelessly, Hadden's attorney denied the allegations and declined CNN's interview. She repeatedly blamed herself for a long time and regrets badly for putting up with such inappropriate behavior. She hid the dismay even from her husband and put up with everything alone.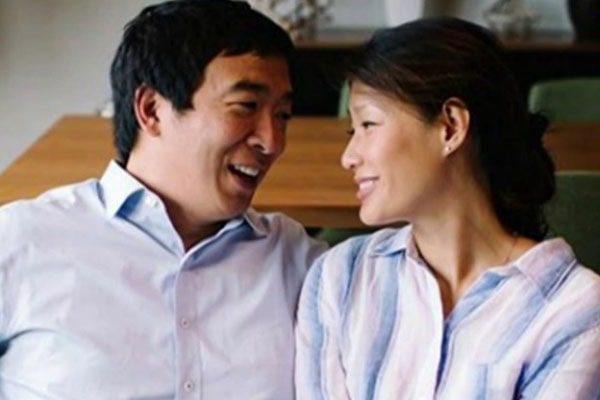 Unfortunately, Mrs. Yang could not share her sorrow with her husband, either. Image Source: NBC News. 
Andrew Yang's wife and mother of two realized that she was not alone when she found out another woman reported him for the same act.  She sighed of relief, consoled herself, and confessed to her philanthropist husband.
Such cruelty to a woman who's expecting a baby disgust and affects her mentality deeply. Therefore women who were assaulted should use their voice and speak out against the assault.
Today, Andrew Yang's wife is determined to be the voice of all the women who are unable to stand up for themselves. Image Source: Eduardo Munoz Alvarez.
Furthermore, sexual assault is a serious matter, and when a person approaches one to shed their burden, judgemental eyes should be closed and stupid mouths should be shut.
As of now, Andrew Yang's wife feels empowered and is determined to speak out for every vulnerable people who are shunned and shut.
Let's hope the mother of two, Mrs. Yang remains as determined as she is today and raise her children as kind as their father.
Keep connected with SuperbHub for more News, Entertainment, and Biography.