Amy Joanne Robach is a T.V. host for ABC News and news anchor for Good Morning America. A former correspondent for NBC News, Robach married Andrew Shue(Billy Campbell of Melrose Place) in 2010 after Amy Robach's marriage ended with ex-husband Tim McIntosh in 2008.
In the eight years relationship, Amy and Andrew had gone through a lot together, both happy and hard times. Especially the time when Amy suffered from Breast Cancer. It was Andrew who supported her from start to end and Amy's fighting spirit was equally great to overcome the deadly disease.
Amy Robach's marriage to Andrew Shue 
In 2010, Amy married actor Andrew Shue who starred on Melrose Place. Andrew had three sons(Nate, Aidan, Wyatt) from his previous marriage with floral designer Jennifer Hageney. Amy and Andrew's family looks straight out of Hollywood and are often described as the Brady Bunch.
The couple handles their role of being step-parents easily like cool aunt or uncle. Both of them are parenting the girls and boys guiding them like mentors. Andrew once recalled that Amy's eldest daughter Ava McIntosh had challenged him to race when they first met.
Amy with her husband Andrew and their family had gone on a holiday in 2018's New Year. And the family looks supercool.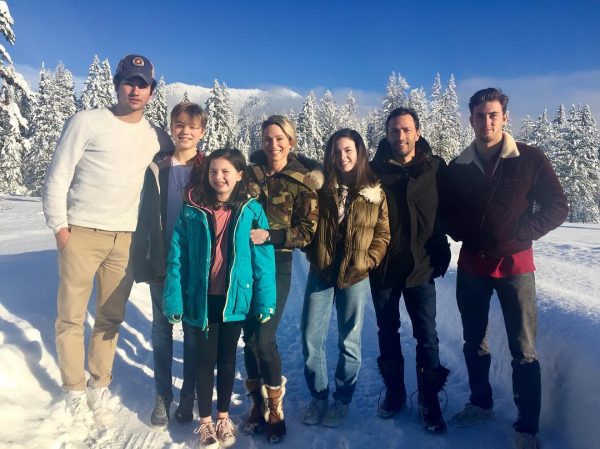 Amy and Andrew's big family after marriage.
Image source: Amy Robach's Instagram
The sweethearts look so much in love. They eat together, live together, support each other, parent their children together, go on vacations and miss each other.
Here Amy has captioned in her Instagram post that she missed her sweetheart, Andrew on his birthday.
Also read: Amy Robach's net worth and salary
Amy's Breast Cancer
Soon after three years of their wedding, Amy was diagnosed with Breast cancer. It was tough and hard as Amy and Andrew's relationship was growing and getting stronger.
Robach had a live mammogram on GMA in October 2013 for breast cancer awareness month. And later she informed the viewers that she had breast cancer. Andrew was very supportive of her throughout the period and coped it together.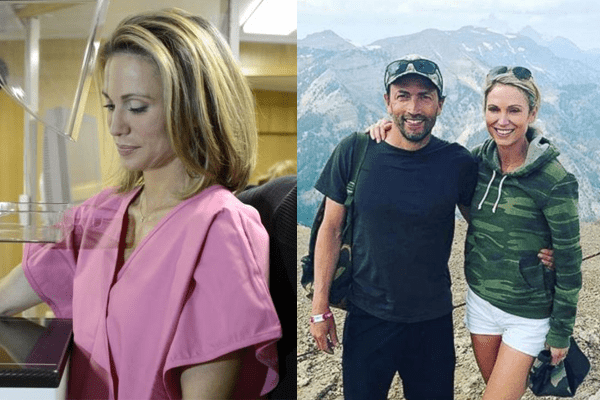 Amy's husband Andrew was very supportive to Amy and helped her fight breast cancer.
Image Source: E! online/ ABC  
Amy had undergone eight rounds of chemotherapy and a double mastectomy all under the same time of raising a family and reporting on GMA.
Her daughters, Ava and Annie were very brave and supported her to be strong. In her book, Better: How I Let Go of Control, Held on to Hope, and Found Joy In my Darkest Hour, Robach shares her journey of breast cancer. Robach in her words describes how she lived her life after being diagnosed and how she flourished.
As the side effect of the chemotherapy, Amy went to menopause as result of a decrease in sex hormones like estrogen and progesterone. Amy had never thought cancer would happen to her and she probably had not dreamed of menopause as a consequence.
Amy's husband Andrew, however, was very supportive of her and used to go to therapies with her.
Also read: Amy Robach's diet and exercise. Her battle with cancer is inspirational.
Amy Robach divorce with Tim McIntosh
Robach was previously married to Tim McIntosh in the year 1996. Tim is a Major Leaguer who grew up in Minnesota, born on March 21, 1965, Tim played for Milwaukee Brewers and got signed as a free agent by Minnesota Twins. In 1996 he signed as free agent with the New York Yankees.
Amy Robach's marriage with Tim came to an end in 2008 when they divorced, together they had two beautiful daughters Ava born in 2002 and Analise born in 2006.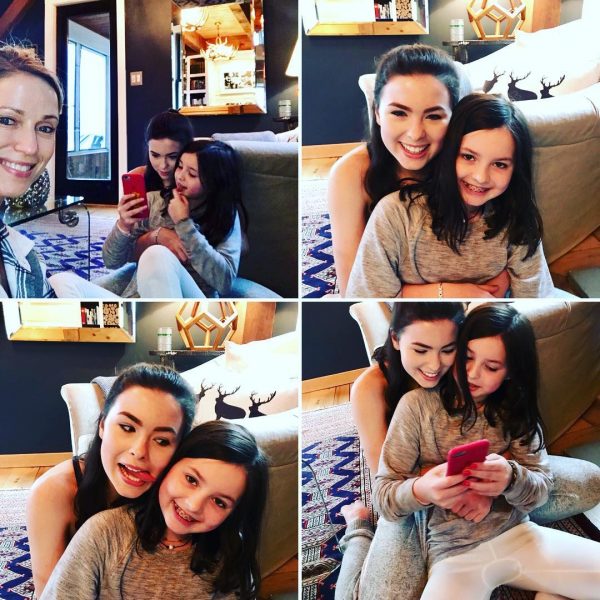 Daughters Ava and Analise from Amy Robach's marriage with Tim.  
Image Source: Amy Robach's Instagram
| | Quick facts on Amy Robach's Biography |
| --- | --- |
| 1 | She was named News Anchor for ABC's "Good morning America" in March 2014. |
| 2 | Robach covered 2016 election from Trump's headquarters for 2017 Presidential Inauguration. |
| 3 | Her 2015 book, Better: How I Let Go of Control, Held On To Hope and Found Joy in My Darkest Hour about her breast cancer was New York Times Bestseller. |
| 4 | Robach has worked in NBC news(2003-2012), MSNBC(2003-2007). |
| 5 | She flew in an F-18 fighter jet and broke the sound barrier. |
| 6 | Born in Lansing, Michigan and grew up in St. Louis, Missouri. |
| 7 | Amy attended University of Georgia and graduated with honors and degree in Broadcast Journalism. |
| 8 | She lives in New York with her husband Andrew, has two daughters and three stepsons. |
Stay with SuperbHub for more Celeb-news and Entertainment.