Erykah Badu and André 3000 became one of the most sought-after musical couples in the 90s. The Outkast rapper and Neo-soul Queen started their romantic relationship swiftly after their first meet.
Well, the power couple has passed their romantic phase and has mastered co-parenting their only child together, Seven. Therefore, today, let us bring the powerful connection between André 3000 And Erykah Badu to your attention via the following article.
Was In Relationship During The Peak Of Their Career
Erykah is known for being mysterious, and not to mention her eccentric fashion sense raises everyone's eyebrows. But she was a little vague about their first meet.
Andre 3000's baby mama, Erykah, explained that the pair first met in the late 90s as she was working on her studio album, Baduizm. She further recalled that the couple had met two years earlier at a club where they heard On and On.
Badu further detailed that two years later, on Feb 7, On and On came out on the radio, and on February 11, she got pregnant. Since Andre and Erykah both were at the peak during their dating, their relationship was highly scrutinized.
Hence, after a baby and a couple of years of romance, Erykah Badu and Andre 3000 broke up shortly after their child's birth.
Breakup & Andre's Song, Mrs. Jackson
As mentioned earlier, the young couple parted ways after a few years into a romantic relationship. As explained by Erykah, years later their breakup, they didn't become friends first and were attracted first.
Following the breakup, Erykah Badu's mother and her baby daddy had a little drama which he addressed via OutKast's 2000 song, "Ms. Jackson." Andre rapped, "thoughts of me, thoughts of he, thoughts of she/Asking what happened to the feeling that she and me had/ I prayed so much about it need some knee pads. "
He further continued, "It happened for a reason, one can't be mad/ So just know that's everything's cool." Badu's ex-boyfriend showed his determination to remain in his child's life via his rap, saying, " And yes I will be present on the first day of school—and graduation."
Despite breaking up, the pair remained best friends for years collaborating on several pieces of music together throughout their 20s.
Welcomed Their Only Child, Seven Sirius Benjamin
As mentioned earlier, the power couple of the 90s parted ways shortly after they welcomed their first child, Seven Sirius Benjamin. He was on November 18, 1997.
The pair parted ways shortly after the birth of their baby boy. However, the couple has mastered co-parenting and is raising their kid to experience the true form of love. Moreover, Erykah is thankful that her son inherited his father's vibe, mellow, non-judgemental, and humble.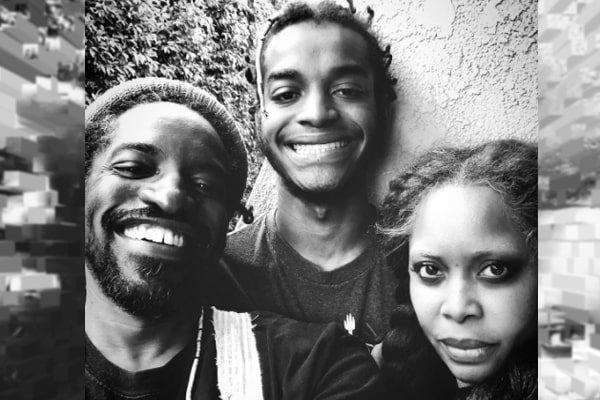 André 3000 and Erykah Badu are co-parenting their son. Image Source: Erykah's Instagram.         
Andre and Erykah Badu's son has grown up to become his father's twin and is interested in music as well. According to Andre, he can rap pretty well. However, he chose to study Botany at the University.
The proud mama bear, Erykah, took to her social media handles to announce that her son was accepted in all four universities he applied to. Well, Seven is amazed by his parents' bond too, who seem to be joking around a lot. Hence, Erykah Badu opened up about their relationship dynamic in 2020.
Erykah Opened Up About Their Relationship In 2020
Despite being very close to and welcoming a son together, Erykah and Andre's relationship was simpler than our thoughts. Frankly, it was us who speculated and made assumptions regarding their relationship while they were enjoying a blissful connection.
Thus, after a couple of years of dating and a child, the duo parted ways. Regardless of the separation, the formerly married pair maintained a close bond, vowing to raise their son in the most sophisticated family environment. Hence, in 2020, Erykah Badu opened up about their relationship candidly.
Erykah and Andre continued to collaborate on music. And while talking to Rolling Stone in 2020, she revealed that the former pair had become best friends. She further shared that they grew closer while co-parenting and their relationship changes depending on what the situation calls for.
View this post on Instagram
Similarly, Badu's baby daddy, Andre 3000, also shared a similar sentiment while talking to Vibe. He agreed that they are cool friends and talk on the phone. Andre also pointed out that people would think they don't get along. Hence, he cleared out that both Badu and he is incredible.
In conclusion, Erykah Badu and Andre 3000's romantic relationship ended a decade ago, but their bonding remains tied. Moreover, Badu admitted that she still loves her baby daddy, while 3000 agreed he feels the same. Perhaps, the co-parenting experts might as well come forward with new music together in the future?
Don't Miss To Follow SuperbHub For More Updates On Celebrity Entertainment, Biography, and News.