ABC's TV host, Amy Robach had never expected she'd be diagnosed with breast cancer with the followed consequence of Menopause. She was 40 years old with an excellent health condition and no history of breast cancer in her family.
But things turned upside down after the mammogram report revealed a suspicious lump leading to a stage 2 breast cancer. She underwent a double mastectomy and eight chemotherapies. Let's find about Amy Robach's battle with cancer and her special diets to beat cancer.
Amy Robach's battle with cancer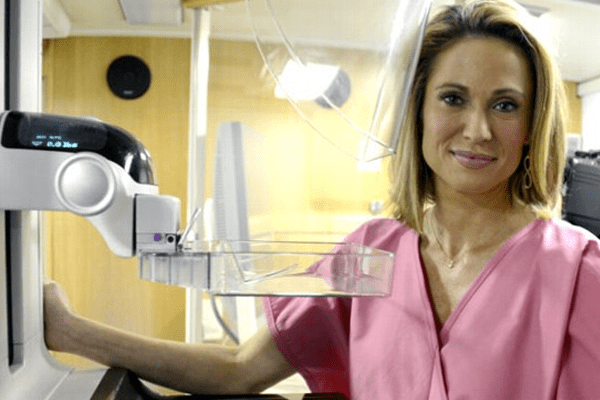 Amy Robach's battle with cancer made her undergo a double mastectomy and eight chemotherapies. 
Source: Amy Robach's Instagram
On November 11, 2013, Good Morning America's host, Amy announced on air that she was diagnosed with breast cancer. As a cancer awareness promotion, Amy had done an on-air mammogram which showed the Stage 2 breast cancer.
Amy at first had no idea how to approach her daughters about it. Delivering the news to daughters Ava and Analise was difficult. But when she approached the girls, they gave their full support and helped Amy to go through eight phases of chemotherapy and a double mastectomy.
Amy's eldest daughter Ava McIntosh even wrote a poem 'Better' for her to help her fight in the darkest hours.
Amy Robach's battle with cancer didn't stop her from working as she became determined in continuing her work each day because she didn't want the breast cancer to take away one more thing from her.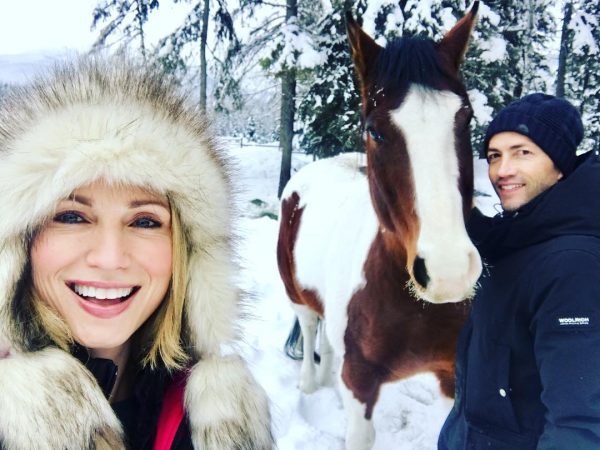 Amy Robach with her husband Andrew Shue.
Image Source: Amy Robach's Instagram 
Just after three years of marriage with her husband Andrew Shue, things got complicated and confusing as they were in the phase of building their relationship stronger. Even it was rough for some months, but her husband Andrew gave his full support. He helped her to be determined and contributed in Amy Robach's battle with cancer.
In December, Robach started her chemotherapy sessions and the drugs infused in her system made her sick and caused hair fall and at times blew her memory. Amy wouldn't be in her sharpest mode and would often be afraid if she'd slip something stupid from her mouth.
Her husband Andrew had written a sweet note and kept in her purse saying;
"I know you can do it, I know you are going to be amazing and I am so proud of it."
While the anxiety was drooling around, Amy had forgotten about it and found it three days after. She spoke to her producer Kaitlyn who in shock replied that Amy had spoken it aloud three days ago.
Now cancer-free Amy has found her life more beautiful, cherishing every moment with her family and husband.
Also read: Amy Robach's net worth and salary
Amy Robach Diet and Exercise
The Breast cancer triggered a commitment to her health and made her rethink about her diets and exercise routine to maintain the change. Amy came with a different approach to health, motherhood balance in order to beat cancer.
All the hectic chemotherapies and a double mastectomy came as both physical and mental challenge to Amy. She kind of became a survivor since the day Amy started her chemotherapies, social media did make a huge difference as many people supported her.
The KETO Diet
Keto diet in simple terms is a diet of high-quality fat, protein and less sugar and carbohydrates. Amy adopted this diet to help her aid as a defence to cancer. After Amy Robach's battle with cancer, she accepted the challenge to prioritize her health and stay fit.
As she started the Keto diet, it became beneficial for her body as the cancer cells fed on sugar which she avoided. Since starting her diet, she lost 11 lbs within the first months which she had not intended. Amy adopted the Keto diet and started working out 5-6 times a week.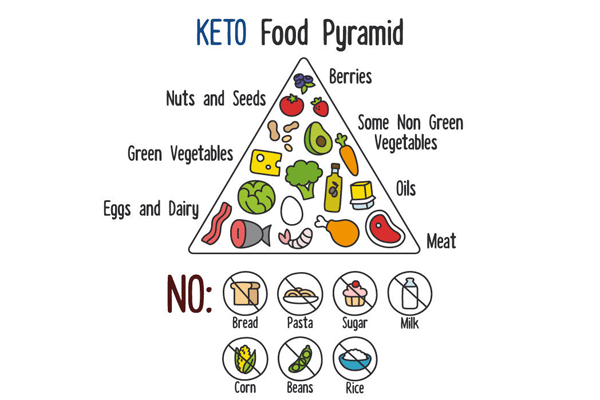 The KETO diets pyramid.
 Image Source: Virily
| | Some of Amy Robach's Tips on what matter's the most |
| --- | --- |
| 1. | Wake up early to make time for yourself every single day. |
| 2. | Invest in your relationships, being slow to anger and listening more. |
| 3. | Collect memories, not things. |
| 4. | Treat your body well no matter the age, be around your family. |
| 5. | Accept service even if you feel like you can do it yourself, it's love, not pity. |
| 6. | Accept love and strength from people around you. |
| 7. | Get the Mammogram, don't wait till 50. |
Stay with SuperbHub for more celebrity news and entertainment.