Robert Fitzgerald Diggs often knowns as RZA is a rapper and is known for the rap group Wu-Tang Clan. RZA's net worth is estimated at $18 million which he has amassed from his career as a talented rapper. He is also a well-known composer, actor and is the Brand Ambassador of TAZO Tea.
American Rapper RZA was born on July 5th, 1969 in Brownsville, New York, U.S. and his primary source of earning is his career as a rapper as well as a music producer. His rap group Wu-Tang Clan was formed in 1992.
Net Worth and Earnings
As stated before, RZA has an estimated net worth of $18 million. RZA coming from a middle-class family, he discovered his talent for music and arts at a very early age. His mother was his best supporter and besides her, his uncle also supported him to pursue his dream. His uncle taught him to play the guitar.
RZA started his career as a rapper in underground rap battles. Then in collaboration with his family members and friends, he started his own band Wu-Tang Clan in 1992. The members of Wu-Tang Clan are: RZA, Method Man, Ol' Dirty Bastard, Ghostface Killah, Raekwon, GZA, U-God, Inspectah Deck, Cappadonna, Masta Killa.
Since his early days as a rapper, RZA has earned a lot of fame and with fame comes money. His group Wu-Tang Clan is one of the most beloved rap groups of the late 20th century. Yet RZA didn't stop there and started his solo career as a singer, actor, composer, and director. His first directorial debut was from the movie The Man with the Iron Fist. He is also often recognized for his work in the Kill Bill series.
Earnings From His Rap Career
American Rapper RZA's net worth is estimated to be a massive $18 million, most of which came from his early days as a rapper and singer in his rap group. He has gathered revenues from his studio albums as well. Here are some of RZA's album with their respective prices:
| Title | MP3 | Audio CD | Vinyl |
| --- | --- | --- | --- |
| The RZA Presents Shaolin Soul Selection: Vol. 1 (by RZA) | $18.98 | $14.79 | |
| World According to RZA (by RZA) | $14.98 | | $80.00 |
| Birth of a Prince (by RZA) | $5.99 | $7.00 | |
| The Swarm, Vol. 1 (by Wu-Tang Clan) | | $2.24 | $79.90 |
| Digital Bullet (by RZA) | $9.49 | $24.99 | |
Furthermore, his collaboration album like 6 Feet Deep, The Pick, the Sickle and the Shovel, and Anything But Words with Gravediggaz and Paul Banks further served him to accumulate some more fortunes. Also, RZA produced most of the Wu-Tang Clan's albums and solo projects. As the leader of the Wu-Tang Clan, RZA released his first debut album in November of 1993.
RZA's Collaboration with American musician and political activist Tim Morello, (who is well-known for his ventures with bands like Rage Against the Machine and Audioslave) released their album Big Boi on 29th July 2018 and The Atlas Underground at the end of the year. Both were extraordinarily successful. Later on, he worked with stars like Nas (known as Queens rapper) and Swizz Beatz as well.
RZA has given a lot of hits over the past decades and some of his financial & commercial success form 1993-2017 are given below:
| Title | Sales | Earnings |
| --- | --- | --- |
| The Saga Continues with the American Hip Hop group Wu-Tang Clan | 24,613 copies | $32,000 |
| Enter the Wu-Tang with American hip hop $2.6 million | 2 million copies | $2.6 million |
| Tical | 1 million copies | $1.3 million |
| Wu-Tang Forever | 4.14 million copies | $5.38 million |
| 8 Diagrams | 202 thousand copies | $0.26 million |
| Once Upon a Time in Shaolin to Martin Shkreli | | $2 million |
 American Rapper RZA's net worth was estimated at $14 million in early 2017 and during mid-2018 it reached $18 million.
Besides his rap career, RZA is also the brand ambassador of TAZO tea. And we are sure that he must be receiving a fair share of amount from it.
View this post on Instagram
Lifestyle
RZA lives a very common and simple life with his former band members/ friends. Apart from other rappers in Hollywood, RZA has very simple hobbies like watching martial arts movies and playing chess. He believes in non-violence and is a great believer of Buddhism. RZA is a vegan and has promoted the vegan lifestyle and compassion for animals on behalf of PETA (People for Ethical Treatment of Animals.) The American rapper tries to live a healthy life and often promotes ways of living life in a healthier way in his social media page.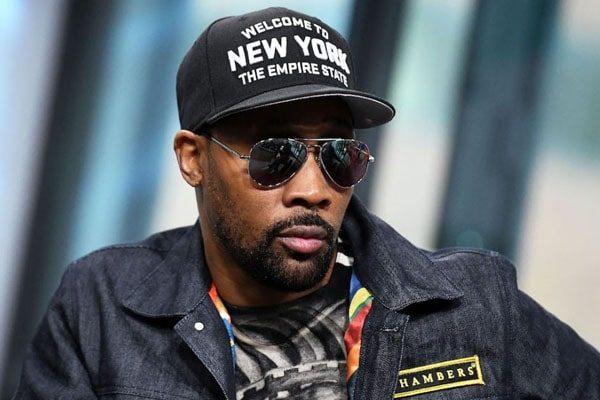 RZA lives a comfortable life thanks to his net worth. Image source: Slaven Vlasic/Getty Images.
RZA is also a man of generosity and often donates in charity mainly focused on animal rescue and preservation. Information about his private property is yet to come out but we are anxious to know what the rapper has under his sleeves.
For more News, Articles, Entertainment and Biography visit Superbhub.