We all have heard about the famous bald beauty, Amber Rose. She has made her name in the American modeling industry, not to mention her marriage with rapper, Wiz Khalifa, which hyped her name for good. With all the hard work and dedication, Amber Rose's net worth has escalated to $12 million.
Today, Amber is enjoying motherhood with her newly born Slash Electric Alexander Edwards with her partner, Alexander Edwards. She is living a luxurious life, but do you know how she managed to lift her life from a stripper to a millionaire? If no, do not leave, not until you reach the end.
How Much Is Amber Rose's Worth?
An American model, feminist activist, fashion designer, and former T.V. talk show host, Amber Rose has evolved a great deal. Along with the growth in her career, Amber Rose's net worth has racked up to $12 million by 2020. The hard-working, gorgeous woman has done everything for fame and has succeeded manually.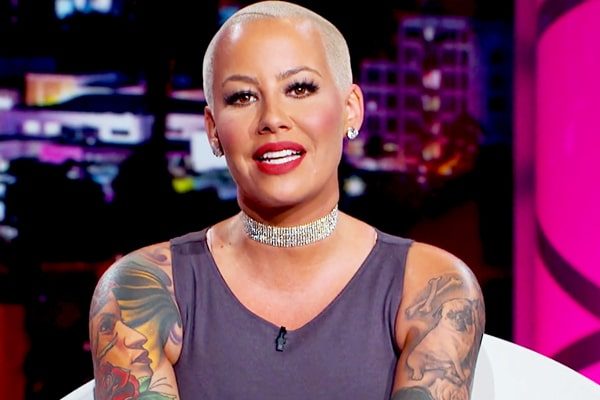 Amber Rose's net worth has rocketed, along with her fame and career. Image Source: Pinterest. 
The Black and Yellow rapper, Wiz Khalifa's ex-wife, Amber Rose started her career since 2007. She has been expanding her resume from an American model to an actress and talk show host. Born on October 21, 1983, in Philadelphia, Rose had begun stripping from the age of 15 to provide for her family. This shows that Rose did not grow up with a silver spoon in her mouth.
Amber Rose's Earning As An American Model
Amber Rose is known for her relationships with famous artists, including Kanye West, Wiz Khalifa, and 21 Savage. However, she did not let her name rest as their girlfriends. Instead, she launched her career through music videos. Appearing in Kanye West and Young Jeezy's music video, "Put On" in 2008, Amber Rose's career got exposure.
Furthermore, Khalifa's baby mama, Rose's fame hyped after she made her appearance for a Louis Vuitton print ad for West's sneaker line. Moreover, she walked in New York's Fashion Week in 2009 that amassed her more attention. Likewise, she continued to appear in music videos for artists like Future, Ludacris, Nicki Minaj, and many more signing with the Ford Modeling agency in 2009.
All of the hard works had allowed Amber Rose's net worth to grow steadily and afford the luxury she's enjoying today. Rose's income as an American model contributed a lot to her bank account. Furthermore, Amber was featured on Russell Simmons's show, "Running Russell Simmons." That was not it. She also guest-judged for the third season of RuPaul's Drag Race in 2011.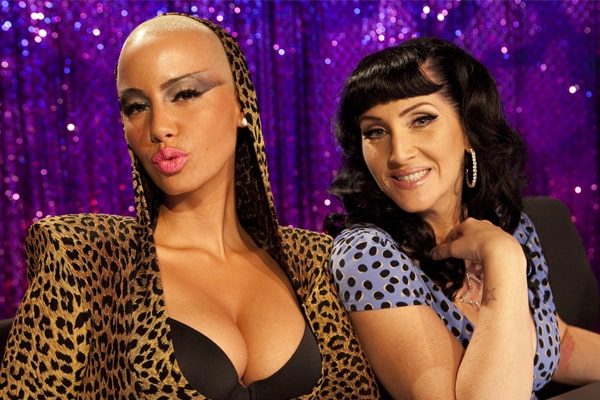 Amber Rose guest judged RuPaul's Drag Race in 2011. Image Source: IMDb.
Since then, Amber has graced the pages of high-end fashion magazines such as Vogue, Gotham, Elle, and many more. The iconic blond shaved head and high fashion shades have made her appearance very compelling.
Amber guest-starred in an episode of Wild 'N Out and was cast in the film directed by Nick Cannon. From an ordinary stripper to a renowned Hollywood personality, Amber Rose has done it all and seen it all. So much respect for the mother of two and a brand of her own.
Amber Rose's Musical Journey & Movies
Besides Amber Rose's earnings as a model, she has also tried her luck in the musical industry. Since Rose's former partners have a successful musical career, she did not have difficulty launching her first debut single "Fame." The song featured Rose's ex-husband, Wiz Khalifa, and was released on January 10, 2012.
Likewise, Amber's second single, "Loaded" was released on February 6, 2012. Following the success, she rapped on her ex-partner Wiz Khalifa's album O.N.I.F.C. called "Rise Above," along with Tuki Carter and Pharell Williams. Therefore, Amber Rose's net worth was aided by her musical journey, as well.
Amassing a massive fortune from her musical career, Amber chose to take on her chance as an actress as well. She gained some roles in films such as Sister Code, School Dance, and What Happened Last Night. Although they were not the blockbusters, these allowed Amber land on other parts.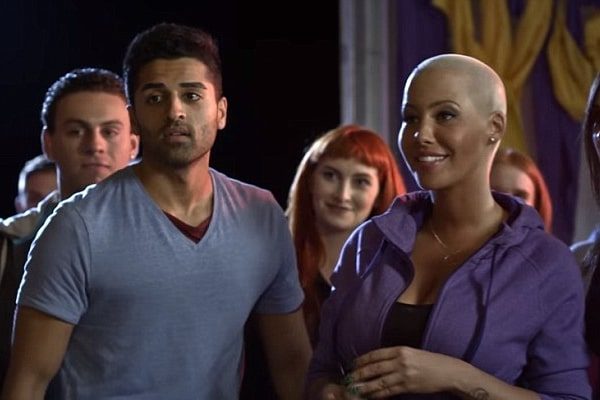 Amber Rose tried her luck in movies as well. Image Source: IMDb.
Moreover, she has made guest appearances in shows such as Black-ish, Selfie, and Spirits of the Dead. All of the chances may have helped Rose's fortune to raise a little high along with her identification as an actress.
Amber Rose's Beauty Line And App
Why would a woman who understands finance very well slack behind and not be her boss? Yes, Amber Rose launched her eyewear line in 2009 and later went on to open a clothing line with her friend, Priscilla Ono. The duo called their line, Rose & Ono.
Amber Rose further launched her skincare series, M.U.V.A. Beauty, that aims to standardize sensuality and relaxation within the beauty industry. Few of her items are listed below with their respective prices:
Bath Dust and Scrub: $69.99
Body Oil: $49.99
Body Wash: $44.99
Intimate Moisturizer: $39.99
Amber Rose is earning pretty well from her business endeavors and merches. Amber Rose's emoji, Muvamoji, quickly lifted her wealth by $4 million in just a few days and reached number one in the iTunes app store.
What Is Amber Rose's Book Called?
Amber Rose has attempted to charm her fans with her wording skills and has published a book called, "How to Be a Bad B*tch" in 2015. The book quickly ranked at number two on the iTunes audiobook store. The book talks about Amber Rose's life, her advice, and her guide to become unapologetic women and rise as women of their will.
View this post on Instagram
However, the book received mixed reviews. Many liked the book while few declared the book was disappointing and useless, stating that the reader was going through angsty middle schooler's diary. Whatever the case is, Amber Rose's net worth did not shrink a bit. It only grew more prominent.
Amber not only attempted to publish books, but she also tried her luck as a television host. Amber hosted her talk show called The Amber Rose Show on VH1, which was produced by Dr. Phil and Rose herself. Unfortunately, the show was canceled after its first season.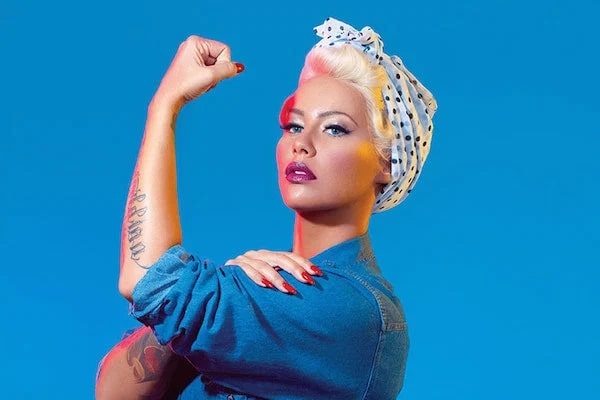 Amber Rose's talk show was canceled shortly after its first season. Image Source: Pinterest. 
However, the end of the show did not end Amber's career as a host. Rose was announced as the host of Loveline in 2016, where she openly talked about the issues regarding sex, love, controversial topics that her listeners may have in mind.
What Is Inside Amber Rose's $4 Million House?
A person's most significant investment in their life includes a house. When you are a multi-millionaire like Amber Rose, a home worth $4 million sounds a great deal. The reality television star, Amber Rose's house, sits at 7,233 square feet and has six-bedroom, eight-bathroom in Tarzana, California.
The mansion is gorgeous and is decorated with custom-made furnitures from Sofa Design Gallery. Amber lives in the multi-million mansion with her new beau, Alexander Edwards, a Def Jam Records executive and their newborn, Slash Electric Alexander Edwards. Amber Rose's son from her previous marriage, Sebastian Taylor Thomaz, also lives with her as she and Wiz have shared custody of the child.
According to Architectural Digest, Rose listed her former home in L.A. for $5.1 million in 2016. Amber lived in the property for a year before moving to her new residency at Tarzana. Along with the houses, Rose's passion for cars is fierce. She owns Gallardo Spyder Lamborghini, valued in $200,000, Rolls-Royce estimated at $371,000, as well as a Ferrari and a Jeep.
Do You Know How Costly Is A Full Body Liposuction?
When a person earns, it might not be a great deal to spend in their body to feel more beautiful. Likewise, the embodiment of the seduction, Amber Rose has put herself under a knife to feel more attractive and deduce the pain of naturally heavy breasts.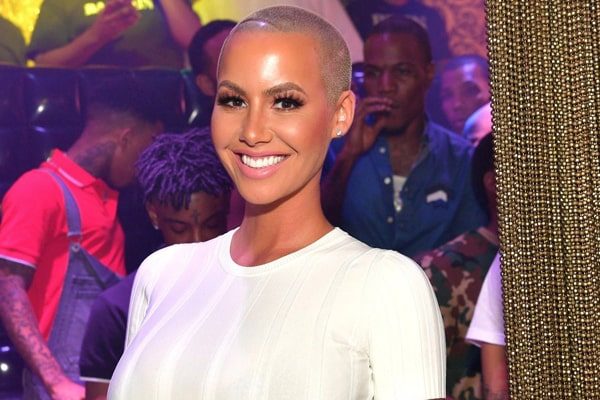 Amber Rose admitted to getting plastic surgery. Image Source: Pinterest.
Since the bald-beauty recently gave birth to her youngest slash, her body is bound to change accordingly. However, she decided to bounce back to her pre-pregnancy body as soon as possible and went through full-body liposuction six weeks after giving birth.
The average cost of liposuction is $3,518, according to the statistics from the American Society of Plastic Surgeons, 2018. The fee does not include anesthesia, operating room facilities, or other related expenses. So, Amber is concerned about her body and thus can spend millions to be on the shape.
Furthermore, Amber Rose underwent breast reduction surgery after being slowed down by it and causing severe physical pain. However, the decision did not come easy. Since Amber's body was also a part of her prominence in the industry, she was concerned that the surgery would fail to make her feel sexy.
Besides Amber's luxury, she also looks out for women around her. Amber is living her life with her executive husband, Alexander Edwards, whose net worth is $2 million by now. Let's hope Amber enjoys her life in luxury and comfort in the future with happiness. And one can only imagine the amount of money Amber has spent on her tattoos.
Don't Miss To Follow SuperbHub For More Updates On Celebrity News, Entertainment, and Biography.