Amanda Lourenço Nunes, aka Amanda Nunes, is in a relationship with Nina Ansaroff. The beautiful pair got engaged on August 19, 2018.
Amanda Nunes is a Brazilian mixed martial artist, who is famous for being the champion of UFC Women's Bantamweight Championship. Similarly, Amanda Nunes' fiance Nina Ansaroff is an American mixed martial artist who competes in the women's strawweight division.
Amanda Nunes Says She Will Fight Nina Ansaroff Before She Retires
Amanda Nunes and Nina Ansaroff said that they would be open to fighting each other one day. Nunes also said, "My last fight is gonna be against Nina, and after then, I'm gonna retire."
Nunes said, 'We really would try to kill each other, and there would be no faking about it, and after then, it would be like that was awesome.' She furthermore, added that they are fighters which help their relationship to be stronger. As they both respect each other, and the adorable duo met through fighting and brought them closer.
Love Life Of Amanda Nunes And Nina Ansaroff
The Brazilian MMA Amanda Nunes and American MMA Nina Ansaroff met in 2012 at the American Top Team gym in Florida when they both were doing their regular fitness workout. Since then, they are dating each other and are planning to set their future with each other. The beautiful pair got engaged on August 19, 2018.
The engaged couple has been together for more than seven years now.
View this post on Instagram
Nina Ansaroff also said in an interview with ESPN that she is going to take one year off from the UFC to have her first child with fiancée Amanda Nunes. She also stated that she is not pregnant yet, but Amanda and Nina are looking into the process.
Nina Ansaroff's dream is to be a mother before being a UFC champion, and having a child is Nina's biggest dream, and Amanda is happy to share it with her, which means the couple has already set their future goals. Both of them credits their UFC successes to their beautiful relationship.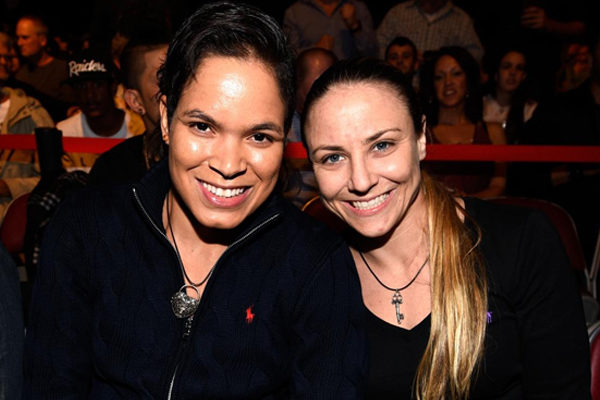 Amanda Nunes and Nina Ansaroff got engaged on August 19, 2018. Image Source: Getty Images.
And fans are eagerly waiting for this couple to share their wedding vows.
Talking about their net worth, Amanda Nunes' net worth is $1 million. Likewise, Nina Ansaroff's net worth also must be grand looking at her prolific career.
Above all, their fight will create history in the UFC. All the UFC's fans are waiting for watching them fight in an octagon cell. Also, Best Wishes for Amanda and Nuna for their future!
Stay Updated With SuperbHub. For More News, Entertainment, And Also Biography.