Allison Scagliotti famous as Claudia Donovan in Television series Warehouse 13 won millions of hearts. Allison is a complete actress and earns a fair amount of money from her acting career. According to Taddlr, Allison Scagliotti's net worth is estimated to be $4 million.
In addition, Allison is a guitarist and member of Nice Enough People. The other band members include Mike O' Gorman, Jerry Trainor, and Andrew Zuber.
Allison Scagliotti Net Worth: Earning from Acting and Band
Allison while answering Facebook questions of fans, said that when she was a little girl and an aspiring actress, she looked up to powerhouse women/actresses who possessed vulnerability, humility, and multidimensions to their characters and themselves.

She really showed the power in her characters too. Allison has acted in more than 25 Television shows including sixty episodes of Warehouse 13 and seven movies including Chasity Bites.
Allison has also shown her brilliant performance in short film Little Gold Star in 2013. The short film 'Little Gold Star' was director Chris Russell's new project with another lead performer Evalena Marie.
The per episode budget of Warehouse 13 was $2 million, and Allison was in the main role. Surely, she received a fair amount of paycheck for her leading role.
Also a ballet dancer, multitalented Allison is a member of the band 'Nice Enough People'. The tour, concerts and stage performance are the main sources of earning for the band.
Allison being the guitarist and back vocalist in the band is certain to get her own part of the earnings. Her earnings definitely add to $ 4 million Allison Scagliotti's net worth as stated by Taddlr.
However, Allison is in the band for her love and interest in music rather than extra income or earnings.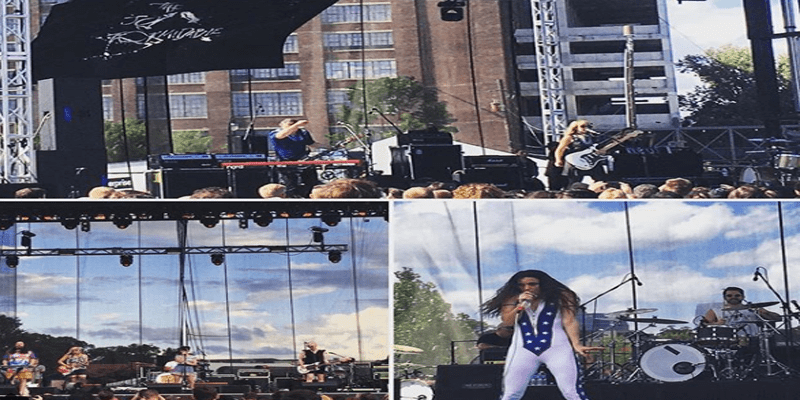 Allison Scagliotti, performing on stage along with band members.
Image Source- Instagram
Importantly, Allison has earned millions of fans' love which is more valuable. She has 100 thousand followers on Twitter and 79.9k followers in Instagram as of February 2018.
House
Allison was born in Monterey, California. She currently lives with her dog and enjoys a single life. Exploring her interiors of the house in her social media posts, we can see that she's a great music lover and everything in her house is neat and organized.
Inside Allison Scagliotti's house; Her wall is full of Blue velvet, eraserhead posters. She plays piano too.
Source: Instagram
Love for Accessories
To summarize, Mindy from Drake & Josh, Allison Scagliotti's net worth includes her earning as an actress, guitarist, her accessories, jewelry, and also her house and car.
Being a guitarist, Allison has a massive collection of expensive guitars.
Allison Scagliotti once said if she could create any artifact for the show then that would be a pair of point shoes that make her dance as a greatest ballerina in the world or an electronic guitar that would make her play like Jimmy Page.
Apart from her interest in acting and music, Allison is fond of accessories like shoes and wallets.
Allison posted a picture on Instagram, where she showed the variety of shoes she wears.  She gave the name, Vog Kendra and Vog Branden Burg, to these expensive shoes.
Allison Scagliotti once stated in This Is Ground, that she never leaves her house without her mod with all the essentials including her watch, writing pads, pen, i-pad, thumb pick, and ear-plugs. We must say she is organized and thus successful.
Allison Scagliotti relationship status is however clueless. She is seen and spotted with many and has also shared pictures on her Instagram. However, it seems that she's single and focused on her career.
Stay with SuperbHub for more updated Entertainment news.