Alissa Violet is an aspiring model and YouTube personality. She has amassed a massive following thanks to her funny videos on her YouTube channel Alissa Violet, as well as by posting her sexy photos wearing stunning outfits on her Instagram account. She is the fiancee of fellow YouTuber Faze Banks.
FaZe Banks (real name Ricky Banks) is a popular YouTuber who runs the gaming group FaZe Clan. His YouTube channel Faze Banks has almost 4.5 million subscribers. FaZe Banks has been the boyfriend of Alissa Violet since June 2017, after Alissa broke up with Jake Paul. The couple got engaged in September 2017. Alissa announced it on her twitter account.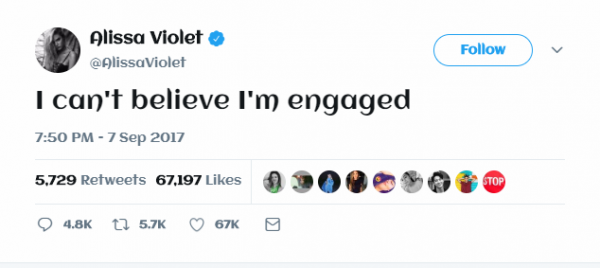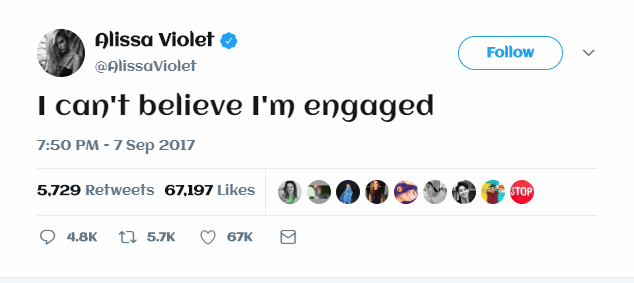 Alissa Violet announces her engagement on Twitter
Alissa Violet Pregnant??
Rumors of Alissa's pregnancy started circulating last year when news outlets and people on Twitter claimed that she was pregnant. But she was quick to announce that it wasn't the case. She cleared things up on her twitter handle saying that she'd gained weight rather than being pregnant.
But in February this year, while she was at Alfred's with her friend, she was interviewed by The Hollywood Fix and she revealed that she was 3 weeks pregnant. She also said she didn't know who the father was. This revelation soon became viral on social media.
But we can pretty much confirm that she's joking and that she's not actually pregnant. The fact that she casually drops the fact that she's pregnant and further claims that she doesn't know who the father is despite being engaged to FaZe proves that she's just joking. Also, her friend laughs when she says this totally gives away the joke.
So we can safely assume that Alissa is not pregnant.
Alissa and FaZe Getting Married
With Alissa and FaZe getting engaged, people are wondering when this lovely couple will get married. Though the couple hasn't announced their wedding date, we can assume it'll happen soon in the future.
Also See: FaZe Banks $2 million Net Worth
FaZe Banks kissing his fiancee Alissa Violet. Image source: FaZe's Instagram
After the engagement, the engaged couple posted a vlog of themselves moving in together as well as another video of them adopting a puppy together. So, they clearly are preparing for their marriage. Let's hope it happens soon.
For more news and entertainment, visit Superbhub.