The astonishing Alicia Dove mentioned her boyfriend Corey Taylor as "King" in her Instagram. Alicia definitely looks like a queen and considers singer Corey Taylor as her king.
The girlfriend of Corey Taylor, Alicia is a former cheerleader and a member of Cherry Bombs, an all-girl dance group. As for her boyfriend Corey Taylor, he is the lead singer of the famous metal band Slipknot.
The pair of Alicia Dove and Corey Taylor is a feast for the eyes of their fans. Before Alicia, Corey has had two wives in his life, Scarlett Stone and Stephanie Luby.
Queen Alicia and her King Corey Taylor
If you are following the member of Cherry Bombs, Alicia Dove on Instagram then you will know what we mean. Alicia mentions her boyfriend Corey Taylor as her king and has it in the details of her Instagram account.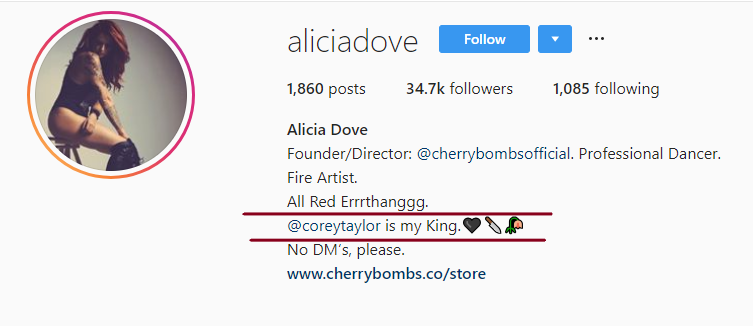 Alicia Dove has mentioned Corey Taylor as King on her Instagram.
Photo Source: Alicia's Instagram.
It's been quite a time now since the pair of Corey Taylor and Alicia Dove started dating. As love is always in the air rumors were surrounding on the Internet that the singer Corey Taylor was dating a dancer. The rumor, later on, was confirmed by Corey and his girlfriend Alicia herself.
Looking at a lovely couple of Alicia and Corey we can presume how much they are into one another. Not just the former cheerleader Alicia but also Corey mentions her as queen and his red world on Instagram.
These guys are literally a couple goals for many. Corey Taylor and Alicia Dove are simply made for one another. They goof around, take selfies making weird faces and love spending time with one another. If they are not the perfect example of a happy couple, then we don't know who is.
Vacations and Family Time
Plus just a couple of months back the pair took a vacation to Bora Bora. Slipknot's lead singer Corey stated that it was the best break that he had had in years following all the hectic separations.
Besides having a loving relationship with Corey, the lovely Alicia Dove also has good bonding with Corey's son Griffin Taylor. We can see them hanging out and enjoying with one another quite a lot.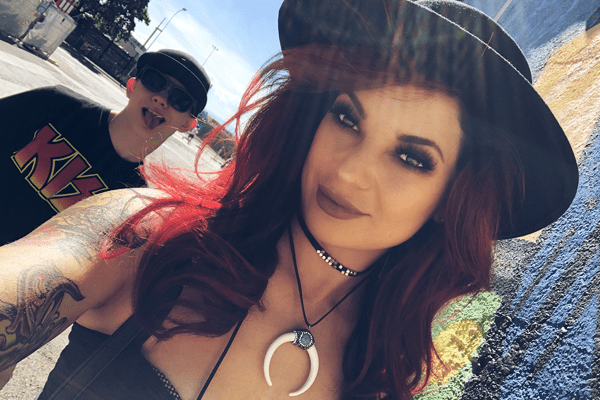 The beautiful Alicia Dove with Corey Taylor's son Griffin Taylor.
Image Source: Alicia's Instagram.
At the moment, the relationship between Corey Taylor and Alicia Dove is going amazingly excellent. They might even be planning for a marriage.
For more News and Entertainment follow SuperbHub.