Alexandra Patricia Morgan Carrasco, famous as Alex Morgan, is one of the highest paid female American soccer players.  Alex Morgan's net worth in 2018 mainly include earnings from her professional career as a Soccer player and endorsement deals.
Morgan is also the 2017 CONCACAF (Confederation of North, Central America, and Caribbean Association Football) Female player of the year. So, let's have a close look at five facts of the famous Alex Morgan's net worth.
1. Alex Morgan's Salary: One of the Highest Paid Women Soccer Player
Morgan was the highest paid women soccer player in 2015. She has consistently topped the lists, with estimated annual earnings of $190,000 to $300,000 in past years.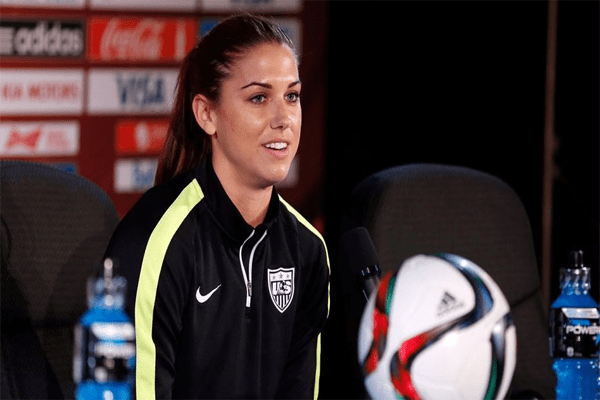 Image source: FoxNews
In 2012, according to Sportsgoogly, she has earned around $70,000 and in 2015, she made a total of $450,000. Alex Morgan's total income in 2018 is estimated to be around $650,000.
Normally, the annual salary for the National Women's Soccer League is $265,000. So, we can say that could be because of subsidies and sponsors.
2. Her Endorsements with Big Brands
Morgan is known as young marketing superstar with the talented, accomplished and commercial appeal. She has risen to national stardom during 2011 when she gave her exceptional play in FIFA Women's World Cup championship. 
Ever since she has been making impressive money from endorsements.
Alex Morgan's net worth includes her income from endorsement deals with big brands like Coca-Cola, Nike and she has struck up partnerships with plenty of other companies.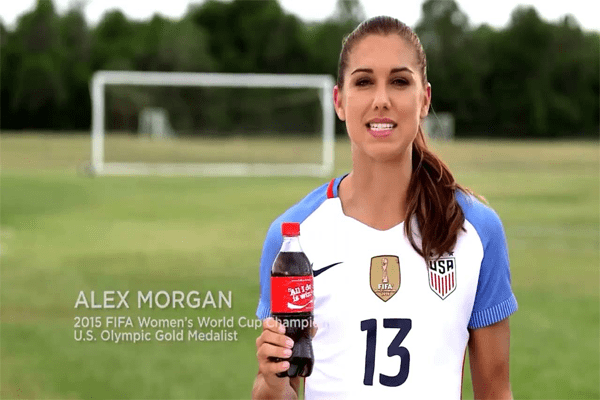 Image Source: YouTube
Since past four years, Morgan has worked with Bank of  America. Apart from that, Morgan's current known deals are McDonald's, Chobani, and Bridgestone. Thus, her major revenue is from endorsements which add to Alex Morgan's net worth.
3.Alex Morgan's House and Car
Morgan is originally from Dimas, California, who grew up with her two older sisters in the house Diamond Bar. Her home is located approximately 30 miles east of Los Angeles, California. The average value of the house in the area is around $700,000 according to Neighborhood Scout.

However, she might have moved out and currently living with her husband Servando Carrasco. Since they both are soccer players they are often moving with their club and playing in different places. So, the exact address of her house is yet to be known.
Still, we can say the national players afford to live in a luxurious house with all facilities including their gym. After all, they are athletes.
Scrolling down Alex Morgan's Instagram, there was the picture of the couple with East Coast Defender team. They had taken a ride in Defender Land Rover truck, one of the safest and reliable vehicle. The couple went back to their place and decided to order one.
The price of that car nearly starts from $55, 000 in 2018 according to Caranddriver. Since they got it customized, the price might slightly change. So, it seems the athlete couple now have luxury custom Land Rover Defender, D-90 from East coast Defender team.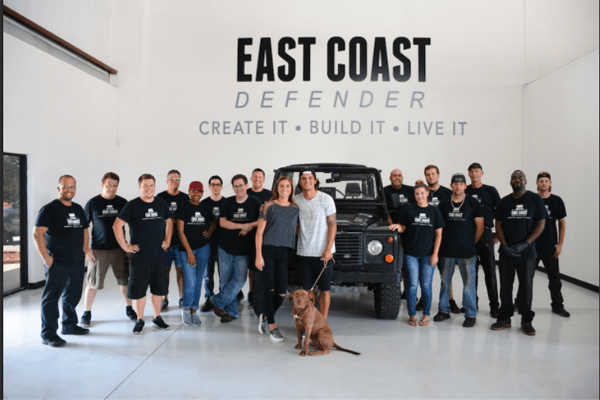 Image source: Instagram
Being a star athlete, it is certain to guess that she might have her own luxury personal car. She has been taking selfies inside her car and posted on her Instagram.
The exact brand is however yet to be known. On February 22, 2017, Morgan also partnered with Chevrolet with an intention to help and grow the brand's Chevy Youth Soccer, a community outreach program.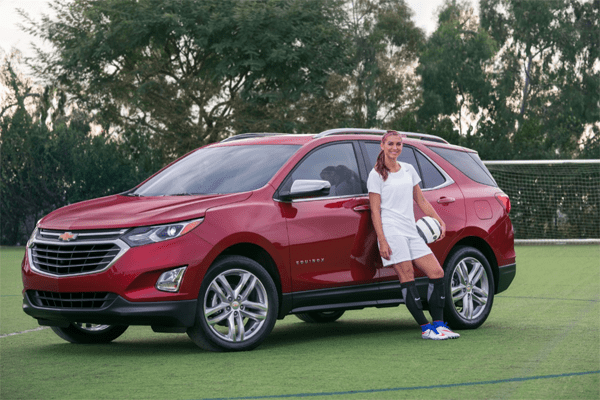 Image Source: Alex Morgan Soccer
4. Author Of A Book Series For Young Girls
Morgan signed with Simon and Schuster in the year 2012, to open The Kicks, a four-book series for middle schoolers. Morgan stated that she wanted her books to inspire young girls and celebrate her love of soccer.
On May 14, 2013, her first novel, Saving The Team released, followed by the second book, Sabotage Season, on September 3, 2013.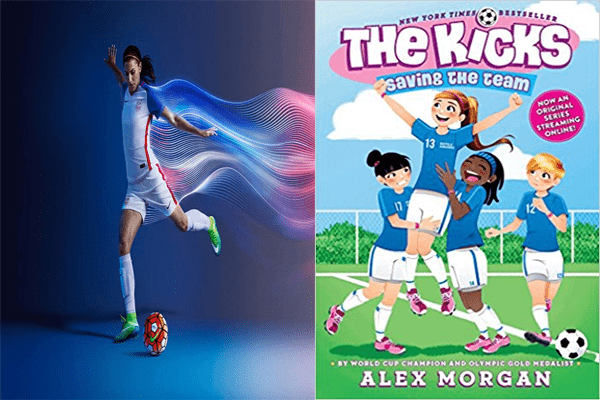 Image source: Amazon
Her book, The Kick (list price at $6.99), is focused on inspiring young girls never to lose hope even when the going gets tough. The Kick became the New York Times bestselling book, the first in a middle-grade series with empowering message of working in a team and believing in yourself.
Revenue from the sale of the books also adds to Alex Morgan's net worth.
5. Alex Morgan's Net Worth at $3 million
Alex Morgan's net worth is estimated at $3 million, while that's hardly a number to scoff at, it feels like a low-end estimate. She has made nearly $300,000 in salary from April 2012 to March 2013.
According to BBC Sport, Morgan now makes worth about $3 million annually. Alex Morgan's net worth would push closer, if not higher than, eight-digit mark.
American Soccer Players are undoubtedly among the richest persons in the world with Christiano Ronaldo topping the list with over $79 million. But, it's not the same with the female Soccer Players.
The highest paid female soccer players reach merely half a million despite their best performance. Such major pay gap difference has been a serious issue of discussion for few years.
The duo was spotted posing in front of The NAUTIQUE boat whose price ranges from  $95,900 to $191,133.
Is Alex Morgan engaged? Who Is Her Husband?
Olympic gold medalist, soccer player Morgan was and is still in love with Servando Carrasco, who is a soccer player currently playing for Orlando City SC. The couple got married on December 31, 2014.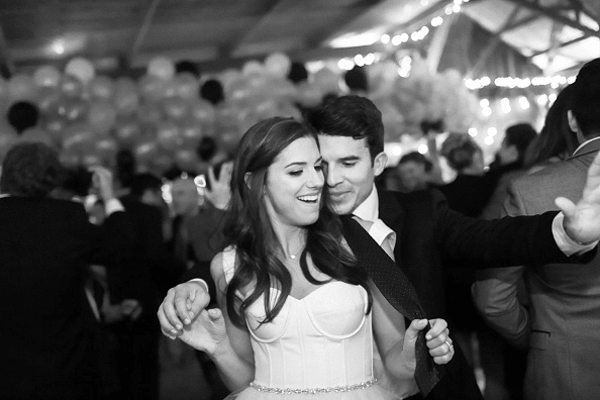 Image Source: The Big Lead
The couple first met at UC Berkeley, where they both played soccer. They dated for six years before Servando finally exchanged ring with her. They do not have any children right now and are living a happy life.
They both are usually distant due to their moving with respective clubs but still, they are the loveliest couple.
Short Bio: Alex Morgan
Born on July 2, 1989, in San Dimas, California, Alex starred for the U.S. national teams and won Olympic gold and the FIFA Women's World Cup.
Morgan became the first women's soccer players to appear on the cover of FIFA video games in the year 2015, where she appeared with famous international player Lionel Messi on the covers of FIFA 16.
For more updates regarding the Olympic gold medalist, Morgan's net worth, relationship and incredible performances, keep looking forward to SuperbHub.