AJ McLean is famous for having lots of tattoos on his body. He has got his body full of ink. We bet there must be some kind of reason behind the tattoos on his body.
Aj Mclean aka Alexander James McLean is an American singer, songwriter, actor model and dancer. He is married to his wife Rochelle DeAnna who is also a tattoo lover. Here are some facts about AJ McLean's Tattoos.
AJ in Tribal and Statement in Left Arm
Among lots of AJ McLean's tattoos, AJ in tribal is the first tattoo which he got on the March of 1997. The tattoo is located in the left arm, and it reflects the personality of Alexander McLean. The tattoo represents his nickname in tribal symbols. His band member Brian's brother Harold helped him to design the tattoo.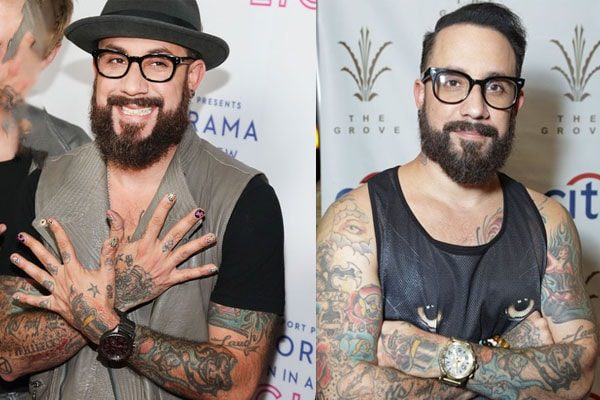 AJ McLean has got several tattoos on his arms. Picture source: Zimbio and Pinterest. 
AJ has got another tattoo in the left arm just below the AJ's tribal tattoo of a statement "You Can Laugh now, but You Will Cry Later. " When the meaning was asked behind the symbol, he said that while he was in Backstreet Boys, he will be laughing, but when it will all be over he will cry later.
Comedy Mask and Serpent
AJ has got another tattoo in the left arm below laugh now statement. He got this tattoo in June of 1989. The comedy mask he has tattooed is mostly used in theatre. It reflects that he has a love for theatre and watches comedy genre plays.
Handsome Hunk AJ has got a tattoo of Serpent on his back shoulder. He hasn't revealed the exact meaning behind the symbol. However, it is reported that this tattoo is related to his birth years.
Chinese Symbols and Jesus Heart
AJ has also got a tattoo of a Chinese symbol which means dangerous, violent, Bear on the Bottom of the right arm. AJ later said that it is hazardous to steal from the Bear or Panda. And this has been the influence and foremost reason behind the tattoo.
View this post on Instagram
AJ also has a tattoo in the middle of his right arm. It is of a heart chain across the middle and then flames coming out of the top. He hasn't mentioned the meaning behind the tattoo but it looks spiritual.
69 and Dragon
AJ has also got another tattoo the number '69' in his belly button, stomach. The number 69 is AJ's favorite and lucky number which is the main reason behind getting this tattoo.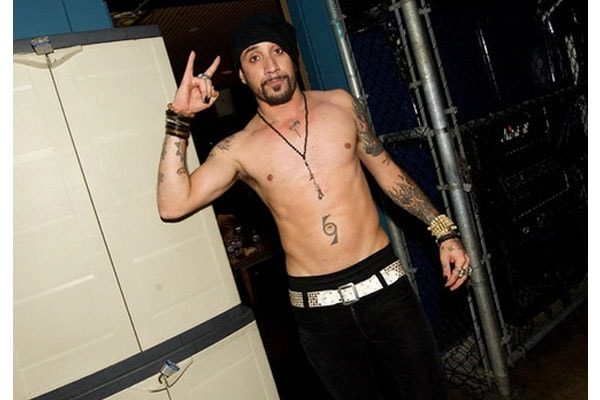 AJ McLean flaunting his tattoos. Picture Source: Boys On the Block. 
He has also got a tattoo of a dragon on his back right shoulder. It seems like he likes the fire and aggressive nature of the dragon. AJ has said that the tattoo reminds him of the BSB tour in Europe.
Other Tattoos
Besides above-mentioned tattoos, he has got numbers of other tattoos such as Lips, Baby hand holding finger, Skull Joker, Honey Bee and, many more. The details and meaning behind those tattoos are yet to be disclosed.
Keep Connected with SuperbHub for more News, Entertainment and Biography.