Picture credit: Today Show
Romance in an elevator! What a good way to show-off your love.
On Monday night, December 4, Beyoncé and Jay-Z gave an outstanding pose in the Angelika Film Center's lift in New York City, after an exclusive screening of the forthcoming movie, Wonder Wheel, which features Justin Timberlake, Kate Winslet, and JAY-Z. This duo was rejoicing the rapper's 48th birthday.
The jazzy couple was seen with a stunning look. Beyoncé wore a sexy dress with floral design near the knee, the blue fur enhanced her look. Black goggles and maroon lips brought charm to her slightly makeup face. Jay-Z attired in in a maroon suit and a bunch of gold necklaces.
Picture credit:E!Online
According to E! Online the duo rented a theater room for themselves and few of their friends. Since Jay-Z is on a tour, they were not in a mood for a big celebration.
Both of them were in an on cloud nine as they were clearly smiling in the elevator hitch.
Thanks to the photographers who met them on the elevator door. They were ready to walk out on the street after romance in an elevator.
However, in reference to the video from TMZ, Jay-Z demanded their bodyguard to get out of the elevator as duo immediately posed for the camera.
"Hurry up, common up- get it", the rapper instructed the photographers, insisting them to get shot of picture so that they can head for the car.
While the singers never explained the specific reason for their elevator fight with Solange, which leaked and went viral at the time, a representative for the family stated that they had "worked through" their issues.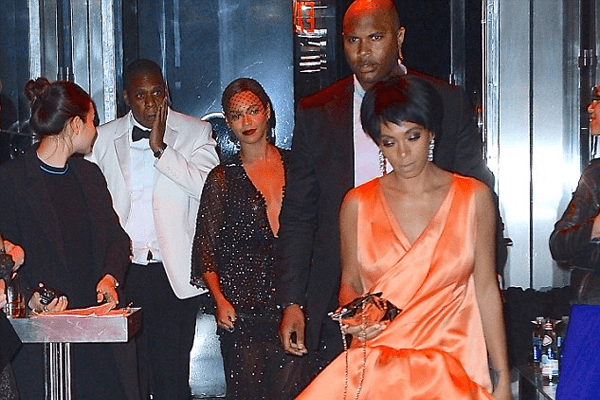 Picture credit:Daily Mail
Here's the video of CCTV footage where Solange Knowles had attacked Jay-Z in the elevator.

This duo had their twin babies 5 months ago on June 13. These twins also have a big-sister Blue Ivy Carter.
These duos are found performing together in different shows and events.
We still don't know the exact reason behind Jay and Solange issues. Let's hope these trio Jay-Z, Beyonce and Solange move together as a united family.