Published Date 27th Nov. 2019, 12:17 pm
Tanya Denise Tucker is a talented American country music artist. Her claim to fame came with, Delta Dawn, in 1972 at the age of 13. Over the past decades, Tucker became one of the few child performers to mature into adulthood without losing her fan following.
Tucker has been into relationships with various entertainers and Glen Campbell was one of them. Tanya Tucker And Glen Campbell were in a relationship from 1980 to 1981.
Forbidden & Controversial Love
The former pair of Tanya Tucker And Glen Campbell were in an on and off relationship before ending their romantic fairy tale in 1981. The ex-pair had started dating shortly after Campbell's third divorce and things started off well for the couple even though they had a 23 years of age gap. The former lovebirds had sung numerous duets and fans loved their duets. Their Shoulder to Shoulder was really famous among their fans.
But unlike their dream lovers persona on stage, behind the doors, it was different. In an interview, Tucker expressed that she could lay down her life for Glen. The ex-pair seemed to be in love, as Campbell also expressed similar sentiments for Tucker.
During a New Year's Eve, Glen wanted to give Tucker the biggest diamond ring at a boutique, but he couldn't find anything that was bigger than one carat. So, he bought her a pair of coral earrings and a diamond ring. And he also spent a total of $57,000 on her 22nd birthday.
Tanya Tucker And Glen Campbell's romantic fairy tale lasted from 1980 to 1981. Image source: NY Daily News.
But certainly, things were not good between the pair. Glen was reportedly going through a bad phase and the two started having major issues. Tucker even claimed that Glen forbade her from attending a fair. But after the party, she went home only to face an angry man. After that incident, she was even excluded from his Europe tour and the ex-pair didn't talk for a fair amount of time.
There was even news of Glen being abusive to Tucker but they were never proven. According to Tanya Tucker, she saw a possible drug dependency in the country singer. But according to her besides his irrational behaviour, he was quite a caring and loving man.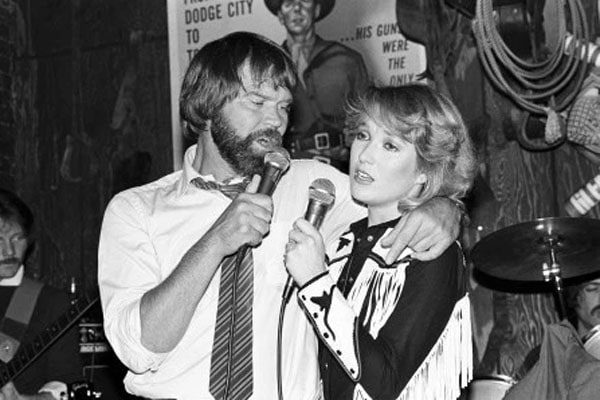 Tanya Tucker And Glen Campbell's Dream Lover is quite popular among their fans. Image source: Ebet Roberts/Redferns.
Soon, the lovely duo separated, but after more than 3 decades Tanya said she had a lot of regrets on how things ended between her and Glen Campbell. She even said that after their break-up he came back and wanted to fix things up, but she was over him and wanted to move on.
Sadly, Tanya's ex-beau Glen Campbell died at the age of 81 years on August 8, 2017, at Nashville, TN.
Tanya's Love Life After Glen Campbell
Tanya Tucker And Glen Campbell's love story did not turn out how they had expected it would. Yet as they say life goes on, Tucker eventually found actor Ben Reed with whom she later had 2 children. A daughter named Presley Tanita and a son Beau Grayson Tucker.
Tanya Tucker has three children one son and two daughters. Image source: Rick Diamond.
Tanya also had a controversial relationship with Jerry Laseter, a Nashville musician. They were engaged twice, first in 1997 and later in 1999. Just before their official wedding in 1999, Tanya cancelled her marriage as she discovered that she was expecting a child. It was Lasester's child. She gave birth to Jerry Laseter's daughter Layla LaCosta on June 25, 1999.
Furthermore, Laseter co-produced Tanya's album Tanya, Live at Billy Bob's Texas and My Turn. Now Tanya is an icon for both country music singers and country music lovers. She and her sister LaCosta Tucker both are iconic country singers.
For More Information on News, Articles, Biography, and Entertainment visit SuperbHub