People may reckon John Goodman's onscreen persona as the stern yet chubby and loving husband, Dan Conner on Roseanne. But in reality, he has been married to his sweetheart, Anna Beth Hartzog, for more than three decades now.
Let's get to know more about the sweetest John Goodman's wife in this article.
Who Is Roseanne Star, John Goodman's Wife?
John Goodman has a significant influence on Hollywood. Like every successful man has a massive support of his partner, John Goodman's wife is behind him in his success. Goodman's spouse, Anna Beth Goodman, aka Anna Beth Hartzog, is a gorgeous businesswoman who owns a children's clothing and toy shop in New Orleans.
John Goodman's wife, Anna, calls her shop, a department store for children. According to the store's site, she opened the store in the French Quarter upon returning to Louisiana, where she was a clothing manufacturer. Furthermore, seeing the opportunity to fill the void in European clothing for kids, Mrs. Goodman decided to establish Pippen Lane.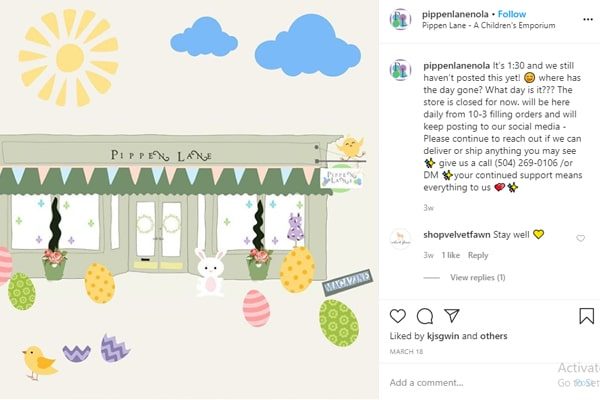 John Goodman's wife initiated her own business venture in Louisiana and is a successful businesswoman today. Image Source: Pippenlanenola's Instagram. 
Anna Beth Goodman's store has evolved over the years what pumped her to fall in love with being able to produce her label. One of the most popular brands in the shop is Lylian Heirloom. Born in the year 1969, Anna Beth Goodman was raised in Bogalusa, Louisiana. Furthermore, her father, Seymon is a real estate developer from Bogalusa, La.
She graduated high school in the year 1986 and went on to attend the University of New Orleans to study Fine Arts.
Let's hope Mrs. Goodman's business continues to flourish into a multi-millionaire venture.
Married To Successful Actor, John Goodman
John Goodman and his wife, Anna, met in 1987 while he was filming Everybody's All-American, and Hartzog was an art student at the University of New Orleans. The connection between two people is unexplainable, but the two connected immediately and fell in love.
Being in a relationship with a person is very precious, while the wedding is the most significant step in one's life. Likewise, John Goodman proposed his sweetheart, Anna Beth Hartzog, on the banks of the Mississippi River. Roseanne's John Goodman and Anna Beth got married at the age of 37 and 21, respectively, at New Orlean's Saint Charles Avenue Presbyterian Church.
According to the People, the lavish ceremony was followed by a cruise aboard a Mississippi riverboat, entertainment by Aaron Neville and friends. Similarly, Goodman's co-star, Roseanne Barr, and her fiance, Tom Arnold, flew in for the ceremony.
It was the big guy's wedding after all, and thus, celeb attendance included Bruce Willis, Demi Moore, Dann Florek, etc. Unfortunately, John Goodman's co-star, Al Pacino, couldn't attend and thus sent his regards in the form of a vocalist instead.
The wedding was grand as the bride; Anna was escorted down the aisle by her father, Seymon Hartzog. The couple finally shared their vows of forever in front of friends and family on October 27, 1989.
A year later, their marriage, on August 31, 1990, they welcomed their first child, Molly Evangeline Goodman. The couple decided to move away from Hollywood to nurture their only child away from the glamour and fame.
John Goodman's daughter works as a production assistant in the film industry. The family of three is pretty close and is together through their ups and downs. Despite being together for more than three decades now and are still passionate equally.
Let's hope the couple remains close to one another until the end of their existence.
Anna Beth Goodman's Husband's Alcohol Addiction
Life doesn't walk on a plane surface daily. Sometimes, a dangerous curve surprises you along the way. A similar situation occurred in Goodman and his wife's life while he suffered from alcohol addiction.
The Roseanne star was struggling with alcohol abuse for a long time and had missed numerous auspicious occasions. It was his tremendous luck to be hired even though he showed up drunk. He realized that his habit was taking a toll on him and everyone around him.
In 2007, Anna Beth Goodman's husband even missed a rehearsal for the Emmys. After several malicious results observed as the side effects of alcoholism, he finally thought he needed hospitalization and called his wife. Finally, he checked into an alcohol detox center and then came out sober ever since.
Even in the tough days, Goodman's wife, Anna Beth, was always around to help him go through the phase. John and Anna often work out together at the gym in their home in Garden District, New Orleans.
A bond is to be curated and cherished. Anna Beth Goodman and her husband, John Goodman understood the value of togetherness and cherished one another's existence every day. Let's hope the bond between the two continues until they part their ways from their physical form.
Don't Miss To Follow SuperbHub For More Updates On Celebrity Entertainment, Biography, and News.