Mustafa Assaad Jr. is a young and evolving actor who is known for his attractive physique. Also, he is the elder brother of Musical.ly star Mariamstar1. Handsome hunk, Assaad Jr. is a huge fan of MMA fighter, Conor Mcgregor and considers him as his idol.
Model and Fitness freak, Mustafa also extol the work of actors Zac Efron and Leonardo DiCaprio. Mariamstar1's brother, Assaad Jr. is working hard to achieve the dream of being an actor. He is enrolled in acting school and has given various auditions.
Mustafa is busy in Drama as of 2018 and he is planning to act in Australian Film initially then in Hollywood. His confidence in himself and capabilities are his weapon and key to success.
Early Life and Education
Mustafa Assaad Jr. was born on June 8, 2000, in Assaad family.He grew up with his three sisters including Danielle Assaad, Aliea Assaad and Mariam Star Assaad and a brother Moey Assad who is an athlete. Father, Khaled Assaad is a tree lopper while her mother, Nadia Lakkis is a housewife.
Moreover, Nadia also handles her Musical.ly daughter, Mariam Star's account. Mariamstar1's brother, Assaad Jr. is oldest among brothers while sister Danielle is oldest of all siblings. The Assaad siblings enjoy their togetherness whenever they are free.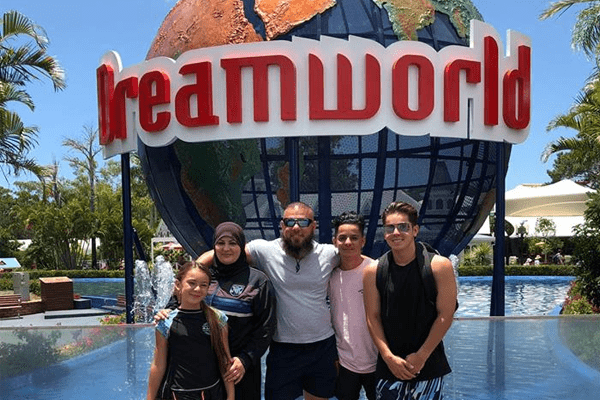 Mustafa Assaad Jr. and Family including father, Khaled, Mother, Nadia, Brother, Moeyy, and sister Mariam Star.
Mustafa is supportive of his family. His father, Khaled collects money from Tree Lopping, and Mustafa helps his father. He also has worked as a plumber to support his family financially.
He completed his schooling at Hills Sports High School, and he used to play Rugby, Oztag and touch football for the school team. Mariamstar1's brother, Mustafa loves to play the violin. In fact, when he was ten years old, he used to play the violin but also he was keenly interested in Rugby.
Career
Mariamstar1's brother, Assaad Jr. is a hard working person since his childhood. When he grew old, and when he was ten he wanted to be a  Professional Rugby Player and also wanted to represent the Nation. But when he became seventeen years old, he realized that Rugby wasn't for him, and he decided to quit to pursue acting and modeling career.
He has played Oztag for various teams. But his presence at Parramatta Hurricane, Oztag Club was notable as he was one of the top players in the team. He has also represented Rugby League team, North Sydney Bears. Mustafa also has represented School touch football and AFL teams. Also, his boxing skills are to be noticed yet. He is a trained boxing face who got training from Johnnos Boxing Gym.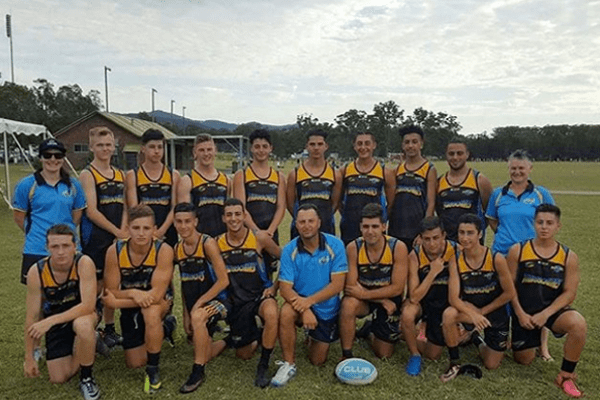 Mustafa Assaad Jr. poses with his Parramatta Hurricane's teammates in Coffs Harbour International Stadium.
Image Source- Mustafa's Instagram
Although, Mustafa hasn't done the significant work that can make him famous throughout the world. But his future prospectives suggest us that one day, he will conquer the acting and modeling sector with his presence.
Net Worth
Assaad Jr. lives in a house with siblings and Parents in Sydney, Australia. His luxurious house consists five bedroom and two bathrooms.Mustafa Assaad Jr.'s net worth includes his car, Honda Accord Euro 2010. He bought this car for traveling propose and also go out on vacation. According to Cars Guide, a luxury car, Honda Accord Euro 2010 cost ranges from $8,999 (A$11,715) to $17,990 (A$23,421).
He got this car as a Birthday present. His father, Khaled bought this luxury car for A$15,000. As per the Conversation with SuperbHub, he has collected A$11,000 by doing sides jobs. So, excluding his car, Mustafa Assaad Jr.'s net worth is approximately A$11k.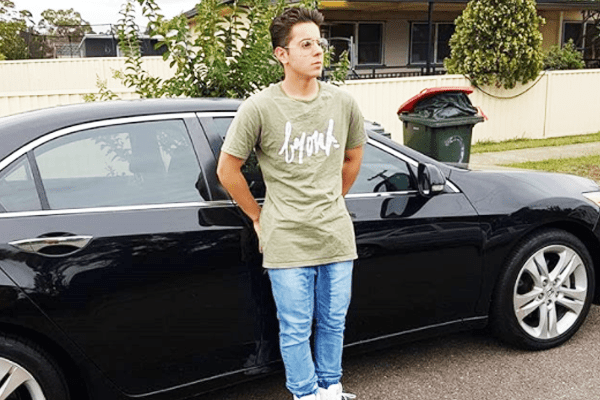 Mustafa Assaad jr.'s net worth includes a luxury car, Honda Accord Euro 2010.
Image Source- Mustafa's Instagram 
Also Know Musical.ly star Mariamstar1 Net Worth
Even though Mustafa is struggling and not earning in million, his skills promise so much to the audiences and probably will be among Millionaires.
Is Mustafa Assaad Jr. Dating  Anybody?
Mustafa is 18 years old as of 2018, and he is currently not dating anybody. In his exclusive chat with SuperbHub, he told us that he is currently single and want to focus on his career. As mentioned, Mariamstar1's brother Assaad Jr has prospects to be an actor and model. So, he is not in making girlfriend or dating.
Know if a 12-year-old girl, Mariam Star1 have Boyfriend have Boyfriend or Not.
Other than this, he spent quality time with his siblings and parents. For instance, he was on vacation with his family in Surfers Paradise Beach. Also, he likes to do anything outdoors  in his spare time.
For more Interesting Celebrity Biographies and Entertainment News stay with SuperbHub.